Countertops Charleston
Charleston countertop is a well-liked option for various settings, including residences and commercial establishments. There are many countertops materials:
Quartz countertops
Granite countertops
Marble countertops
Porcelain countertops
Solid surfaces countertops
Laminate countertops
Quartz and granite countertops have remained the most popular options for several years. Laminate is a composite material frequently used to construct countertops, particularly in wet environments such as bathrooms and kitchens. The Charleston countertop is not only beautiful but also long-lasting and inexpensive. 
In addition to that, it is offered in a wide range of hues and designs so that it may be customized to your preferences. If you are interested in updating your current countertop, the Charleston countertop can be the best option for you to consider. Keep reading to discover why this option is so common and how you can begin the installation process immediately.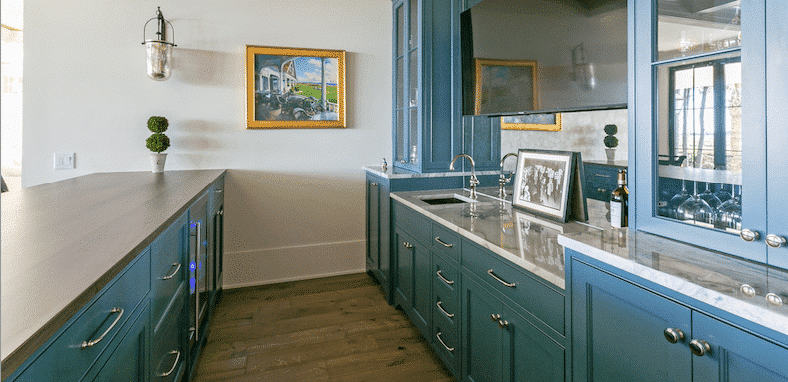 Popular Countertops Materials
When it comes to selecting a countertop material, there are numerous options available in the market. Each one comes with unique characteristics, benefits, and drawbacks. So ready to explore the best available options? Let's start. Which ones are popular countertop materials?
The following are the most popular countertops in Charleston
1. Granite countertops
Granite countertops are popular as they are heat resistant, and their durability is outstanding too. They are available in a wide range of colors, patterns, and materials, making it simple to find one that complements the look of your kitchen. View more ideas for granite countertops in Charleston.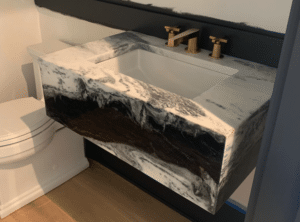 2. Quartz Countertops
Quartz countertops are produced and made of resin and natural quartz. They come in a wide variety of colors and designs, are extremely durable, and require minimal maintenance. They are also stain and scratch resistant. There are many options for quartz countertops in Charleston.
3. Marble Countertops
Marble has been used in homes for centuries because it is a luxurious and timeless material. It is a popular choice for both traditional and contemporary kitchen designs since it is available in a wide range of colors, patterns, and finishes. Unfortunately, it requires more frequent maintenance and is less durable than other materials. View marble countertops in Charleston
4. Solid Surface Countertop
Solid surface countertops are very much easy to mold and shape as they are made of a blend of acrylic and polyester resins. They come in multiple colors and patterns and require little maintenance.
5. Concrete Countertops
A flexible and long-lasting solution, concrete countertops may be tailored to meet any kitchen design. They are heat and scratch-resistant. However, maintenance sealing is necessary to avoid stains.
Ultimately, your budget, preferred design, and care requirements will determine the best countertop material for you. Before settling on a course of action, weigh the advantages and disadvantages of each choice.
What are the most popular countertop trends?
The world of interior design and home decor is continually evolving, with new trends emerging every year. Some of the most popular trends currently include natural materials, sustainable and eco-friendly design, minimalism, bold colors and patterns, and home offices.
Natural materials like wood, stone, and woven materials such as rattan and wicker are being used more frequently in home decor to create a warm and inviting atmosphere. This trend reflects a growing interest in incorporating natural elements into our living spaces.
Eco-friendly Design
Sustainable and eco-friendly design is becoming increasingly popular as people become more conscious of their environmental impact. This trend includes using recycled materials, choosing furniture and decor made from sustainable sources, and incorporating energy-efficient lighting and appliances.
Minimalism is still a prevalent trend, with many people choosing a simple, streamlined aesthetic in their homes. This involves decluttering and paring down possessions, choosing furniture with clean lines, and using a neutral color palette.
Bold Countertop Colors
Bold colors and patterns are also trending in home decor, with brightly colored accents and eye-catching designs being incorporated into everything from throw pillows and rugs to wallpaper and upholstery.

Finally, as more people work from home, creating functional and stylish home offices has become a significant trend. This includes choosing comfortable and ergonomic office chairs, setting up proper lighting, and using decorative accessories like desk organizers and planters to create an inspiring and productive workspace.
Overall, the most popular home decor trends focus on creating functional, stylish, and sustainable living spaces that reflect the needs and values of the individuals who live there.
Which countertops are the most popular for installation in the kitchen and bathroom?
Countertops are an integral component of any home's kitchen and bathroom. In addition to serving as a practical work surface for activities such as food preparation and personal hygiene, they also play an important part in the overall beauty of the area. There is a wide variety of material choices available for use as countertops; however, granite, quartz, and marble are now the three most often used materials for new installs in kitchens and bathrooms.
1. Granite is a type of natural stone that is highly coveted due to its resilience to heat, as well as its longevity and natural beauty. Because it is offered in such a diverse selection of hues, patterns, and surface treatments, it is easy to locate an option that is congruent with the aesthetic of your kitchen or bathroom. It is particularly resistant to scratching, making it an excellent choice for locations that see a lot of foot traffic.

2. Quartz is a man-made substance that is manufactured by combining natural quartz with resin in a laboratory setting. In addition to being extremely long-lasting and requiring little in the way of upkeep, it is available in a dizzying array of colors and designs. In addition to being resistant to stains and scratches, quartz worktops are a popular choice for use in the installation of surfaces in both kitchens and bathrooms.
3. Marble is an abundant and classic building material that has been utilized in residential construction for hundreds of years. Since it comes in a wide variety of colors, patterns, and textures, it is frequently used in both classic and contemporary kitchen and bathroom layouts. On the other hand, it does not have the same level of durability as other materials and needs frequent care.
Granite, quartz, and marble are the three most popular countertop materials used most frequently in new kitchen and bathroom installations. While choosing the correct countertop for your area, it is vital to take into consideration your demands, your preferred style, and your budget because each material has its own set of characteristics and benefits that are unique to itself. Would you like to see the countertops Charleston company offers?