Top Selection of Quartz Countertops in Charleston, SC
If you are looking for quartz countertops in Charleston, you might be seeking a sleek, sturdy surface for your kitchen. Countertops of this variety offer a pleasing blend of resilience and style. Rather than marble, quartz proves itself a formidable contender, boasting exceptional durability. Charleston countertops are usually a conversation of granite versus quartz. While a classic choice, granite doesn't hold a candle to quartz regarding maintenance. Quartz countertops, even under heavy kitchen usage, remain unscathed.
Quartz Design Aspects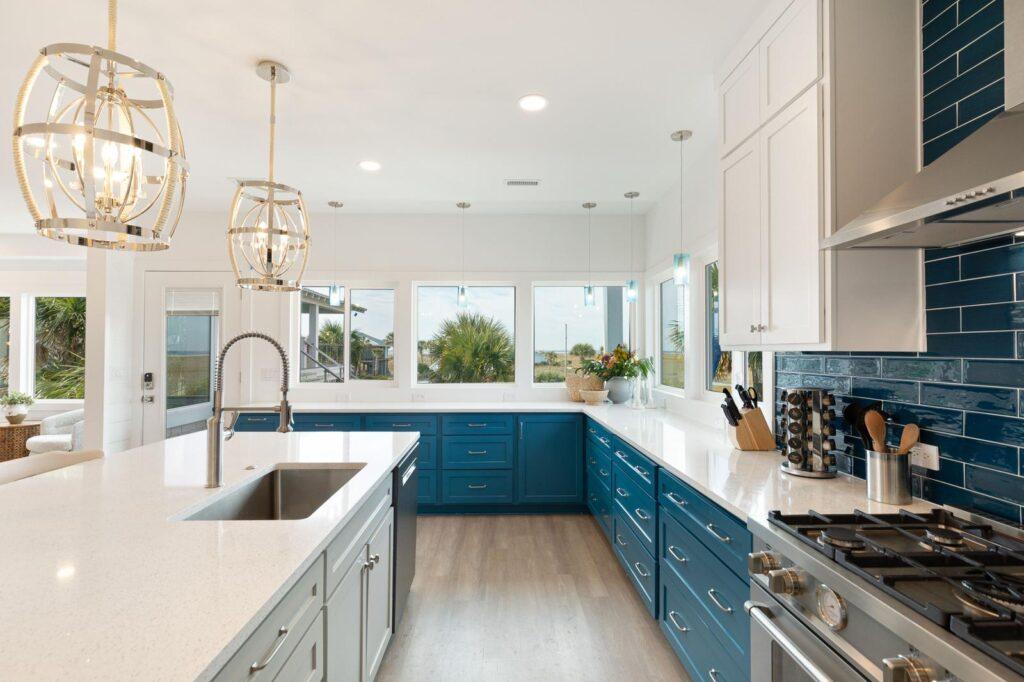 When considering countertops in Charleston, SC, think about the floor and cabinets as well. It's essential to make sure all surfaces and the floor create a harmonious visual. A solid surface countertop from quartz could be the perfect fit. Charleston offers a plethora of options for quartz countertops, and you're bound to find one that suits your style and budget. And for those of you residing in South Carolina, take heart. SC quartz countertop selections are readily available and varied in type. Whether you prefer a subdued style or something a bit more flashy, there's a quartz countertop in SC for you.
Your quest for that blend of beauty and durability ends here. Located in Charleston, we boast an impressive selection of quartz countertops. Our team, always super amiable and skilled, stands ready to transform your kitchen or outdoor cooking space into a sight for sore eyes.
Function and Form Principle
Quartz countertops, renowned for their resilience, fit perfectly into the "function and form" principle. Not only do they elevate your kitchen's aesthetic appeal, but they also stand the test of time, resisting scratches and stains. Cambria is an appealing choice. It features a stunning range of hues and patterns, ensuring the selection caters to even the most discerning tastes. A dream kitchen awaits you. Remember, our exceptional team stands ready to assist. Whether you're sprucing up your Charleston residence or designing an elegant outdoor kitchen, consider quartz.
Why Choose Quartz Countertops In Charleston, SC?
Quartz countertops bring the best to your dream space. Synonymous with durability, they're known for their superior performance over natural materials. A visit to our showroom in Charleston, SC, will open your eyes to the plentiful quartz colors ready to transform your kitchen or bathroom. Our professional team has a solid 30 years of experience. Trust us, we've done an amazing job for countless homeowners looking for the perfect countertop material.
South Carolina offer awaits! Countertop needs are varied, and Charleston's selection process caters to all. Indoor and outdoor kitchens alike benefit from the non-porous nature of quartz, making it resistant to stains and oh-so-easy to maintain. Vanity and practicality come together in quartz countertops, making them a choice certainly worth consideration.
Durability:
Have you seen quartz's durability? It's simply awe-inspiring! Two slabs meet, and you can't even tell where one ends and the other begins. The pigment is uniformly distributed, resulting in a seamless and beautiful countertop. You'll appreciate the resilience when you're chopping, dicing, and cooking away in your new kitchen. All while your countertops look as good as on day one.
Quartz countertops offer decades of hassle-free service. Imagine your kitchen or bathroom looking immaculate year after year. No matter what life throws at them, quartz countertops stand firm. Their secret? An engineered stone unmatched in durability and aesthetics.
Low Maintenance:
Who wouldn't love low-maintenance countertops? Quartz surfaces are just that, offering homeowners relief from the constant upkeep required by other materials. Spilled something on your countertop? Worry not; a quick wipe-down is all it takes to restore its shine.
Quartz countertops they're a joy to maintain due to their non-porous nature. This property makes them impervious to stains and helps keep your surfaces looking pristine. With quartz, you have more time for the things in life that matter and less time spent on maintenance.
Design and Variety:
Step foot inside our display area. A treasure trove awaits you. Wall-to-wall quartz slabs shimmer with colors and designs just ready to add flair to your cooking area or washroom. From subdued shades for those who prefer a minimalist vibe to lively designs for the adventurous, we have a slab for all preferences.
Each countertop that finds its way into a home doesn't merely fill a space. It becomes a mirror reflecting a homeowner's soul. Our team, seasoned through years of crafting and installing, stands by your side, helping you pick a quartz slab that matches your style to a tee and boosts your home's visual appeal. With quartz, your options know no bounds.
3 Top Benefits of Quartz
Quartz is a rockstar. It's tough, resilient, and the perfect choice for your North Charleston kitchen. Its tenacity gives a nod to a toughness that no other countertop material can rival. Our clients frequently commend the low-maintenance character of this worktop. Stain-resistant quartz makes an ideal choice for a bustling family kitchen.
Not just robust, quartz has a unique charm. With an array of colors and patterns, it can transform any kitchen into a space that reflects the homeowner's personality. These countertops, unlike natural stone, don't require sealing. Such a convenience definitely proves beneficial for busy homeowners.
1. Enhance Your Kitchen
A more alluring kitchen awaits those who choose quartz. It exudes an elegance that one can't help but admire. A quartz countertop becomes a focal point, drawing eyes with its beautiful colors and patterns. The professional installers in our large inventory have honed their skills to ensure your kitchen looks its best.
Imagine a kitchen where every square foot holds a story, a space where conveniently located items add vibrancy to it. How could one not be enticed by such a vision? This dream can become a reality with quartz countertops in Charleston.
2. Increase Property Value
A quartz countertop isn't just about aesthetics. It's an investment. Potential buyers understand the value of quartz, admiring its stain-resistant and low-maintenance features. This stone, clients say, raises the bar for what they expect in a home.
Charleston countertops made from quartz are becoming an increasingly popular choice for homeowners. They know that the durability of the stone offers an advantage that will translate into a higher property value when the time comes to sell.
3. Easy to Clean
Ease of cleaning should not be underestimated. Who doesn't want a kitchen that shines with little effort? Quartz, being non-porous, doesn't absorb spills. This feature allows for speedy cleanup, a boon in a busy kitchen.
Quartz countertops, due to their non-porous nature, are not just easy to clean but also hygienic. They don't provide a place for bacteria to thrive, giving you peace of mind. When you're cooking for your family, it's a relief to know that your surfaces are as clean as they look.
Choosing the Right Quartz Countertop
When you're hunting for quartz countertops in Charleston, choices can baffle you. You're looking for beauty, but you also want durability. Consider what your kitchen style demands. Does it cry for a bold statement or whisper for subtlety? Contemporary kitchens adore the sleek look of a darker quartz slab. Rustic-style kitchens, on the other hand, can embrace the warmth of a light-colored, natural stone-like quartz.
If your kitchen style aligns with a modern vibe, you might fancy engineered stone with a bit of sparkle. A quartz kitchen countertop with metallic flecks can add that elusive wow factor. A natural quartz countertop with subtle patterns may just hit the spot if you're more traditional. The point is that your countertop should enhance the character of your kitchen, not clash with it.
Consider Your Kitchen Style
Ready for the consideration about hues and designs? Good. Living in Charleston, SC, means enjoying ample sunlight. Light-colored quartz countertops capture that sunlight, giving your kitchen a spacious feel. Craving a bit of flair? Try dark tones. Designs are important, too. For fans of simplicity, solid colors are perfect. If unique is more your style, look at speckled or veined options.
Selecting the Shade and Design
Remember, your kitchen and bathroom gadgets can impact your countertop selection. A grey quartz slab pairs well with shiny metal appliances. With white cabinets, consider dark countertops for a show-stopping contrast. Your selection of shade and design for your quartz countertops in Charleston, SC, should vibe with your overall design scheme.
You even picked a color and design. What now? The edge style of your quartz countertop. This detail may seem small, but trust us, it matters. It enhances both looks and utility. A countertop with soft edges offers a fluid, eye-catching appeal. Angular styles hint at a contemporary vibe.
Edge Options
Engineered stone countertops offer a variety of edge options. If you're into simple and sleek, eased and mitered edges might tickle your fancy. With their rounded finish, bullnose edges are great for families with kids. No sharp corners mean fewer chances of accidents. For a traditional kitchen, beveled edges can evoke an old-world charm.
Remember, be it edged or chamfered, your choice should bring the room together. A quartz kitchen countertop with an ornate ogee edge might not fit a simplistic kitchen theme. Conversely, a square-edge countertop might seem lackluster in a classic setting. Just like its shade and design, your quartz countertop's edge style should smoothly blend into your kitchen's narrative.
If you're located in North Charleston, finding the right quartz countertop might seem like a daunting task. But with the right guidance and a clear idea of your kitchen style, that perfect countertop is close to your reach. Whether it's granite, marble, or quartz, selecting the right countertop involves more than just picking a color. It's about choosing quality, aligning with your kitchen's personality, and creating a space that feels like home.
Quartz Countertops vs. Granite Countertops
When selecting materials for a kitchen revamp, quartz surfaces and granite options pop up. These two sit atop piles of choices.
A prized pick, engineered quartz, possesses a lot of perks. Not surprisingly, some folks can't even tell it apart from the good ol' natural stuff. But on closer inspection, stark contrasts in toughness emerge—discerning these could save you a ton of grief later!
Differences in Durability
If longevity tops your list of considerations, quartz kitchen countertops might pull ahead. The resilient resin binds quartz bits, creating a surface less prone to unwanted nicks or scratches than granite. It withstands hefty pots, sharp knives, and hot off-the-stove pans with aplomb.
Unlike granite, quartz countertops aren't porous, meaning stains have nowhere to hide. If you spill red vino, there's no need for panic. Simply wipe it clean, and your countertop shines like new.
Maintenance Comparison
Customization and upkeep set quartz and granite apart. With engineered stone countertops, cleaning demands little more than a damp rag. Resin also seals off potential hiding spots for bacteria and grime. So, it's not just easy to keep clean—it's more hygienic, too.
In contrast, granite requires regular sealing to maintain its glossy facade. Miss out, and the surface might lose its shine and become a breeding ground for bacteria.
Aesthetic Appeal
When it comes to looks, both materials have their fans. Some folk are head over heels for quartz's sleek, uniform look. It offers a wide array of hues to match any kitchen decor.
Granite, however, flaunts unique, natural patterns. Owing to its formation deep within Mother Earth, each slab is a one-off masterpiece. No two granite countertops will ever look exactly alike!
Where to Find Quartz Countertops in Charleston, SC
Look no further than Granite Marble Tops for quartz countertops. This place, with its zing, is a haven for those on a quest for quartz in Charleston. Offering a myriad of designs, each countertop radiates uniqueness and a charm that's hard to resist. Visit our showroom, and you'll see their variety. Quartz, which mimics natural stones, comes in various shades and patterns. It's a visual treat, and its allure is hard to ignore. You'll feel a pull towards these countertops, each screaming elegance and sophistication at you. Let me tell you, you'll definitely be using these countertops once you lay your eyes on them.
Granite Marble Tops offers the best, a claim backed by their legion of satisfied, happy customers. They are all praise for the super friendly and professional staff here. Time for installation, you ask? Before you know it, your chosen countertop will enhance your space gracefully. And that's not an exaggeration. They work fast and efficiently, ensuring you get your dream countertop without a long wait. You'll admire the craftsmanship, the skill, and the care with which they install each countertop. And the transformation? You'll love it!
Conclusion
Look 'round Charleston, SC! It is a sight to behold, with an impressive collection of quartz countertops. Are you dreaming of a kitchen or bath refresher? Keep in mind that this lovely city has oodles of choices for you. Quartz countertops are a sight, long-lasting, and fit any vibe you fancy. Fancy a change at home? Count on quartz.
Home improvement is crowded, yet Charleston shines with its various quartz countertops. From gleaming deep blacks to understated, texture-rich whites, each quartz slab has a tale of its formation. These countertops don't just win in looks but prove themselves with their practicality. They'll take on stains, scratches, and high temps, standing strong amidst a bustling home's daily hustle. Are you pondering a change? Quartz it up, Charleston's your place! A place where excellence in quality, style, endurance, and design come together. Charleston beckons you to join its whirlwind of quartz.