Charleston Countertops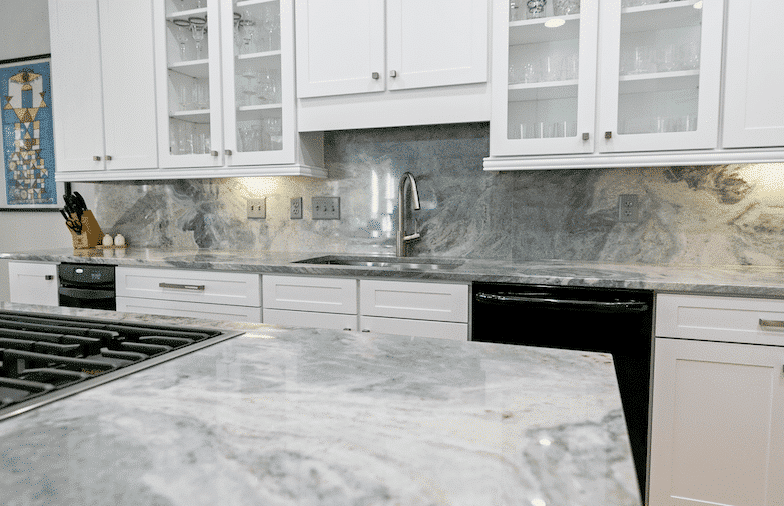 Charleston Countertops
Transform your kitchen, bathroom, or other room in your home with beautiful and functional Charleston countertops. If you want to upgrade your interior design while improving functionality, look no further than the high-quality products from Eugene's Marble & Granite manufacturers. With a great selection of colors, styles, and materials, you can find the perfect countertop option for any space that complements existing architecture and decor. Plus, our award-winning customer service team will be there every step of the way to ensure that you get the ideal custom solution for all your projects. Let us help make your dream home a reality!
Gorgeous Granite Countertops
Updating your kitchen or bath with granite countertops in Charleston can provide a beautiful and timeless transformation to any home. With unbeatable durability, granite is suited to withstand hot pots and pans and frequent use without showing wear or tear. Granite fits seamlessly into any interior aesthetic by adding a style statement from the warm tones of crushed quartz to sleek polished surfaces. Not only that, it is an incredibly valuable long-term investment for your home – adding just as much monetary value as a style. If you are considering a move in the future, you can be sure that you will see a significant return on this particular investment when it comes time to sell your property.
Marvelous Marble Countertops
If you're looking for a timeless, sophisticated look for any space in your Charleston home, marble countertops are perfect. From beautiful, subtle hues and bold statement pieces to unique features like flecked stones or veined designs, this natural material offers an array of aesthetic possibilities. Plus, the durability and performance you'll get from marble countertops in Charleston make these surfaces a practical choice. Whether you're sprucing up an indoor kitchen or finding your perfect outdoor dining ensemble, consider adding the stunning allure of marble countertops to your home and take it to the next level.
Quartz Countertops Colors
With various colors and styles, quartz countertops in Charleston, SC, can elevate any decor and bring personality to even the most mundane space. An ideal choice for kitchen design, quartz countertops have offered superior performance and beautiful aesthetics for many years. With its unbeatable hardness, Charleston quartz countertops can easily put up with pretty much anything, including scratches, extreme heat, and regular wear & tear. The range of colors and styles accentuates the look of any room, offering the perfect balance between elegance and modernity no matter the design scheme. You will fall in love with how easily they become centerpieces in your home while taking their overall look to a luxurious level!
Conclusion
Charleston countertops are the perfect addition to any home. Whether you're looking for granite, marble, or quartz options, there is something that will complement your existing architecture and decor while also improving functionality. From adding value to your property with durable surfaces to transforming mundane spaces with colorful accents, you can be sure that Eugene's Marble & Granite has much to offer. With our award-winning customer service team and a great selection of products from one of South Carolina's premier manufacturers, you can get the perfect custom solution for all your projects! Let us help make your dream home a reality today!
FAQs
Q: What is the best material for countertops in Charleston, SC?
A: When choosing a building material, the decision is entirely up to you based on your needs and preferences. It's important to consider the style you're looking for and the durability of certain materials — two qualities perfectly embodied in granite, marble, and quartz. These robust options provide more than just their eye-catching aesthetics; they are all built for long-lasting performance. From kitchens to bathrooms and beyond, these materials will stand the test of time and add a unique touch of sophistication to any space.
Q: Are granite countertops an investment? 
A: If you're the type of homeowner who values style and substance, then granite countertops are a great investment for your home in Charleston. Not only will they turn heads with their timeless beauty, but adding quality granite countertops to your property can also provide quite a nice selling point if you decide to list it down the road. Plus, whatever pattern or color you select will bring an increased feeling of luxury that not many other materials can offer. Regarding kitchen and bathroom upgrades, there's no better choice than choosing granite countertops!
Q: Where can I find custom quartz countertops in Charleston? 
A: Eugene's Marble & Granite has your stone countertop needs covered! From stunning, custom granite and marble to functional Corian for your kitchen, bath, or outdoor entertainment space, their award-winning customer service team will help you create the perfect solution. Access to some of South Carolina's premier manufacturers means no project is too big or small. Let Eugene work with you to make your dream home a reality today!