Are you going to install new countertops in Charleston to update your kitchen or bathroom? This is a wise purchase that may improve the appearance and use of your room. The correct material, style, and expert installation might be difficult to decide on. Not to worry! We'll give some advice in this blog article to assist you in making wise choices and obtaining spectacular outcomes that suit your goals and budget. Therefore, take a coffee, and let's get started!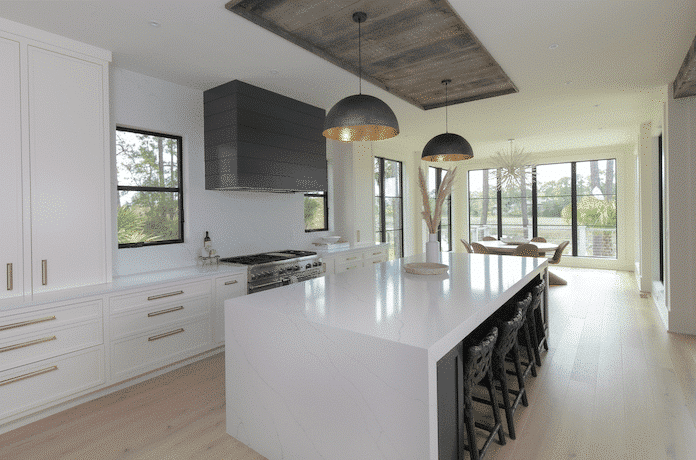 Tips for Installing New Countertops
Assess your needs
Before you start shopping for new countertops, it's important to assess your needs and expectations. Think about the room's main use before installing the countertop. Is there a need for sturdy materials because of the heavy traffic area? Do you need a certain aesthetic or color palette to go with your interior design theme?
Determine Budget 
Your budget is another thing to take into account. Determine how much you're willing to pay upfront and over time on upkeep and repairs before choosing a countertop.
Consider the amount of care necessary for various materials as well. For instance, if you often host parties or have children, quartz may be the best material to choose from.
Note any current appliances and fixtures that will stay in place after installation. Instead of competing with these components, you want to choose a countertop that enhances them.
When selecting new countertops in Charleston, you may reduce your selections and make an educated decision by first determining your requirements.
Choose your material
The proper countertop material must be chosen carefully since it may affect both the use and appearance of your kitchen or bathroom. Charleston offers a variety of possibilities, each having pros and cons of its own.
Granite is a preferred material because of its strength and all-natural beauty. It comes in a range of hues and designs to suit any aesthetic, but frequent sealing is necessary to keep stains from appearing.
Each slab of marble is distinctive due to its veining and ageless charm. However, it is softer than granite and may scratch easily if not well maintained.
Quartz is an engineered stone that blends granite's strength with quartz's ease of upkeep. It is not porous. Thus unlike other natural stones, it does not need sealing.
Quartzite is also gaining popularity very fast due to its durability and unique look. The slabs have similar look to granite, but is is not granite. The beauty of quartzite is that it is pre-sealed.
Sinks and countertops may be seamlessly integrated with solid surface materials like Corian, which are very simple to keep clean. They may be destroyed by heat but are also scratch-resistant.
In the end, the best material for you will rely on your own requirements and tastes. Before selecting your final choice, take into account aspects like your budget, the amount of upkeep needed, the intended aesthetic, and the amount of wear and tear they will endure.
Decide on a style
Choosing new countertops for your Charleston home is important to choose a design that goes well with your house's appeal. Making a choice might be difficult with so many accessible materials and fashions. There are some suggestions to make the procedure simpler.
First, think about the general design theme of your house. A minimalist countertop with clear lines can be the finest choice if your house has a modern or contemporary aesthetic. However, real stone worktops like marble or granite can be more appropriate if your house has classic characteristics like elaborate cabinets or molding details.
Prefered Color Scheme
Consider your preferred color scheme next. Neutral colors like white or beige are adaptable choices that go well with the majority of decorating themes and hues. Bolder hues like black or dark blue may give your living room drama and contrast.
Finally, think about how much upkeep certain countertop materials demand. The degree of care required by each material varies, ranging from high-maintenance surfaces that need periodic sealing to low-maintenance choices that simply need sporadic cleaning. These things must be considered before making your decision.
You may choose the ideal countertop type to match your living area by considering the general design theme of your house, color preferences, and the maintenance requirements of various materials.
Get accurate measurements
When installing new countertops in Charleston, getting precise dimensions is essential. If you choose a bespoke design, it is essential to make sure the new countertop fits correctly over your cabinets.
Making a template out of cardboard or butcher paper is one of the greatest methods to get accurate dimensions. Using this technique, you may see and modify the template until it fits perfectly.
Be careful to account for any appliances, such as stoves and refrigerators, that will sit on top of your countertop when you measure. An ample room must exist between them and the new countertop.
Making sure there are no obstacles, such as pipes or electrical outlets, that might hinder the installation procedure is another crucial issue. Before placing an order, be sure there are no clearance problems to prevent time- and money-consuming rework.
To ensure that all dimensions are exact to the eighth of an inch, remember to double-check them before making an order!
You may rest easy knowing that your new countertops will fit perfectly into their assigned locations by following these procedures.
Hire a professional countertops installer in Charleston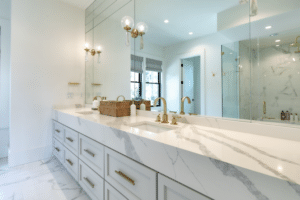 The last step in installing new countertops is hiring a qualified installation. Even if you're skilled and have some DIY project expertise, it's better to leave this task to the professionals. Professional installers have the necessary equipment, expertise, and training to guarantee that your countertop installation happens without a hitch.
Make sure an installation in Charleston is certified and covered by insurance before employing them. Look into their recommendations and testimonials from former clients. Inquire about the installation procedure and the guarantee they provide.
You can create a stunning environment that serves all of your requirements in your kitchen or bathroom by using these guidelines for installing new worktops in Charleston. Every stage of a countertop installation project, from determining your requirements to selecting materials and designs, acquiring precise measurements, and finding a competent installation, is crucial to its success.
Conclusion
Installing new countertops in Charleston is an exciting project, but it can also be a challenge. Following the tips outlined in this article will help ensure that your installation goes smoothly and you have beautiful and long-lasting countertops for many years to come. Use the right materials, take your time with measuring and cutting, and get professional assistance if needed – these are all necessary steps for a successful countertop installation. With careful preparation, you can enjoy gorgeous new counters in no time!