How to Seal Countertops
Do you want to know how to seal countertops? All natural stone countertops should be sealed regularly (usually one or twice a year) to protect your stone from stains, scratches, etching, and other damage. Conveniently, sealing your stone is something you can do all by yourself! Professionals are always available if you would like to outsource this job, but otherwise, you can become a stone sealer.
Depending on what type of stone you have, sealing more than twice a year is suggested. For some delicate marble, homeowners will have peace of mind knowing they took an extra few hours to prevent any staining on their large investment.
In this article, you will learn step by step, how to get your countertops sealed and ready to conquer any meal and cooking session.
1. Know when to seal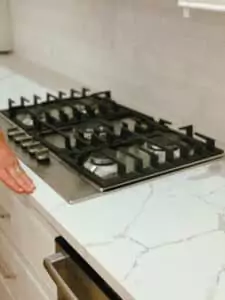 It's important to know if your sealer has worn off since having been applied by fabricators upon installation. Here's how to test: Pour a small amount of water, about 3 inches in diameter, on the surface of the stone in a few places and allow it to sit for 30 minutes. If a dark ring or mark appears, it means water is penetrating and your countertops need to be sealed again. If you are not comfortable with this, keep track of how many months it's been since last sealed, and make a schedule for the year.
2. Clean your stone
Before sealing, the surface of your countertops needs to be clean. Do not use abrasive common household cleaners. Opt for special stone cleaners available at your local grocery store or provided by your fabricator.
3. Properly spray sealer on countertops
Evenly spray to apply sealer on your stone surface. Work in one area at a time (just one section of the island, then the perimeter). Spray in 3-foot sections. Right away, wipe the sealer onto the surface using a paper towel or lint-free cloth. It is crucial to wipe the sealer IMMEDIATELY because letting it dry will lead to hazing.
Once it's wiped, buff your countertops with a clean lint-free cloth. If desired, you can repeat this step 3 times in the same section to get maximum protection against damage and stains. Just wait 20 minutes between the multiple applications so the sealer can fully dry.
4. Polish
Polishing your stone countertops after all sealer has dried brings out the natural intricacies and beauty of your stone. To do this, wait 24 hours after the sealer has been cured before polishing.
Apply stone polish to the surface by spraying 6-8 inches away from the stone. Like sealing, immediately buff the counters with a dry clean cloth. You're all finished!
---
Watch our video tutorial for additional guidance on our YouTube channel, Eugene's Marble & Granite of Charleston: