Are you looking for new stylish countertops in Charleston? Are the countertops in your Charleston home old or outdated? It's time to update to the most fashionable countertop styles and materials available! Choosing the best solution for your house might take a lot of work with so many alternatives available. 
Knowing that a kitchen countertop is so important, we should think about selecting one that is stylish and long-lasting. Kitchen countertop design trends shift from year to year. We've compiled a list of the most popular kitchen countertop design trends for 2023. Viewing these brilliant countertop ideas will assist you in making the best decision for your kitchen decor. Continue reading to be inspired!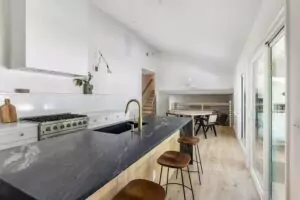 Stylish Countertop For Charleston Homes
A stylish countertop is more than a useful kitchen or bathroom addition. It is also a crucial component that may improve your home's overall look. A fashionable countertop must be strong, simple to keep clean, and able to handle normal use.
You have a wide range of alternatives when selecting a stylish countertop for your house. There is a wide variety of materials and patterns to pick from, from traditional granite countertops to contemporary porcelain surfaces. Your own style preferences and your family's demands will determine the best option.
Consider the general design motif you want to accomplish in each area of your house when choosing the kind of trendy countertop that would work best there. For instance, modern materials like quartz or solid surface may be more appropriate than conventional marble if you're striving for a sleek modern design in the kitchen or bathroom.
In general, a stylish countertop ought to improve the appearance and usefulness of any space where it is put. There is undoubtedly a great solution out there that satisfies all of your needs, whether you like natural stone or man-made materials like engineered quartz.
Design Trends in Kitchen Countertops for 2023
For the year 2023, we have compiled a list of the most popular design trends for kitchen countertops.
Quartz is still a popular choice
Quartz has long been a popular choice for kitchen countertops, and it's not going away anytime soon! This engineered stone is composed of quartz particles mixed with resin, resulting in a strong and long-lasting material. Quartz is popular among homeowners because of its various colors and patterns. Whether you prefer a pure white countertop or something more speckled or veined, there is bound to be a style that suits you.
Consider quartz if you want a great countertop material that won't break the bank. While prices vary depending on the brand and color chosen, they are generally less expensive than other high-end options, such as marble or soapstone.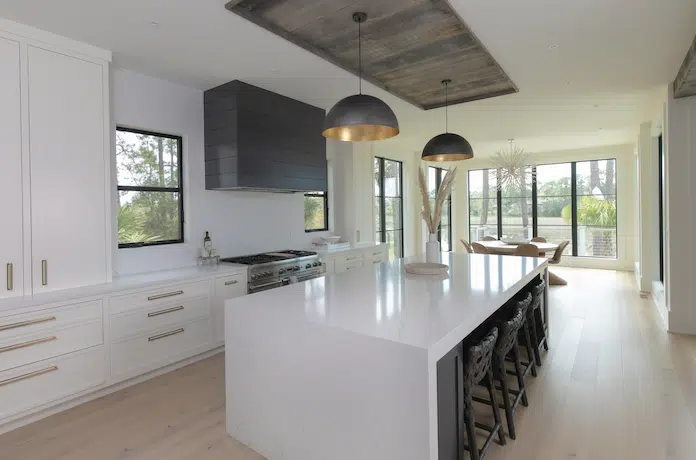 Honed or Polished Surface
One of the most important decisions in kitchen countertops is whether to go with an honed or polished finish. Honed finishes have a more matte and velvety texture than polished finishes, which have a glossy and reflective surface.
Honed finishes are ideal for achieving a more natural appearance in your kitchen. They are less likely to show scratches or fingerprints than their polished counterparts, making them ideal for busy households with a lot of cooking going on.
Polished finishes, on the other hand, provide a sleek and modern look that can make your countertops really stand out. They reflect light beautifully and add an elegant touch to any kitchen.
Ultimately, the choice between honed and polished will come down to personal preference, as both options have distinct advantages. So, before making this important decision, think about what kind of look you want for your kitchen!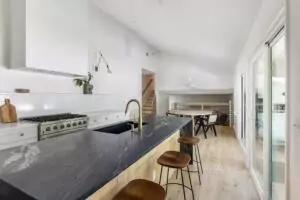 Speckled or Veined
Kitchen countertops can add a lot of style to your kitchen while also being functional. When it comes to design trends in 2023, you have several options to choose from. Pure color, speckled, or veined countertops are a popular trend.
Pure color countertops have grown in popularity because they complement almost any kitchen theme or color scheme. They have a sleek and modern appearance that many homeowners prefer. Speckled and veined designs may be ideal if you want something more eye-catching.
Speckled patterns have small spots of darker colors on a light background, whereas veined counters have veins that run through them, similar to marble. Both add an elegant touch to your space and are ideal for those who want their kitchens to look luxurious without breaking the bank.
The beauty of these designs is that they come in a variety of hues and tones, allowing them to fit into a variety of styles ranging from contemporary to traditional kitchens. However, you must consider how these patterns will interact with other elements in your kitchen, such as cabinets, backsplash tiles, and flooring.
Waterfall Edge Regulations
Waterfall edges are a popular kitchen countertop design trend that has recently dominated the market. It has an elegant and sophisticated appearance due to the seamless flow of the material from the top surface down to one or both sides of the countertop.
Waterfall edges are adaptable and can be incorporated into a variety of materials, including quartz, marble, granite, concrete, and others. They look great in minimalist contemporary kitchens, but they also add depth and texture to traditional kitchens. They are also easy to clean because there are no corners or crevices where dirt can accumulate.
Consider matching the waterfall edge on your kitchen countertops to the finish or hardware on your cabinets for a unified look. You could also try contrasting colors or textures to add visual interest.
To achieve flawless results, remember that installing a waterfall edge necessitates precise measurement and execution by experienced professionals. However, if done correctly, this design feature will undoubtedly transform your kitchen into a work of art that exudes class and luxury.
Get the Same Backsplash Color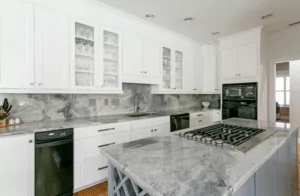 When it comes to kitchen design, the backsplash is frequently an afterthought. However, in recent years, it has emerged as an essential component of modern kitchen design. One popular trend is to use the same color for both the countertop and the backsplash.
Matching your countertop to your backsplash creates a seamless look and feel in your kitchen. This trend works especially well with minimalist designs that require clean lines. Using a single color also makes cleaning much easier because there are no grout lines to contend with.
Choose a countertop material that comes in large slabs with little variation in pattern or veining to pull off this trend successfully. Quartz or solid surface materials like Corian, which can be custom fabricated without seams, are ideal for this look.
Choose a simple backsplash material, such as subway tile or glass, that will not compete with the pattern or texture of the countertop. For example, if you have white quartz countertops, go with white subway tiles to create an all-white backdrop that looks sleek.
What materials are popular for Stylish Countertops?
Several materials on the market may be used to create fashionable countertops. Every material has certain qualities and traits that make it popular with homeowners. 
Granite
Due to its sturdiness and natural appearance, granite is one of the most often used materials for fashionable countertops. It's suitable for any kitchen or bathroom decor since it comes in a variety of colors and designs.
Marble
Another popular option is marble, which gives richness and beauty to any setting thanks to its veining patterns. However, since it is susceptible to stains, constant cleaning is necessary.
Quartz
advantage of quartz is that it requires little maintenance. Unlike natural stones such as granite, quartz does not require regular sealing. This makes it an excellent choice for busy families with limited time. Furthermore, because it is non-porous, it is resistant to stains and bacteria growth.
Quartzite
Quartzite is a natural stone that requires annual sealing, and while it is not quite as stain-resistant and low-maintenance as quartz, it is still more so than other natural stones. In addition, because quartzite is a natural stone, it cannot be altered, thereby limiting design and color options.
Consider practicality as well as beauty when choosing a countertop material for your house, depending on your lifestyle requirements!
Conclusion
If you are looking for new and trendy styles of countertops, stop by Eugene's Marble and Granite. Our design specialists will be able to recommend the best options based on your design and style. Send online request for a free estimate.