What are Kitchen Countertops Replacement Options in Charleston?
When choosing kitchen countertops, learn about the variety of materials offered on the Charleston market.
Granite, stainless steel, tile, marble, concrete, wood, epoxy, and tiles are among the materials we provide.
There are many options for your kitchen countertop, so we talked about the benefits and drawbacks of each, including qualities, toughness, most common usage, and average costs.
Read through it to know the kitchen Countertops Replacement options in Charleston.
Granite kitchen countertops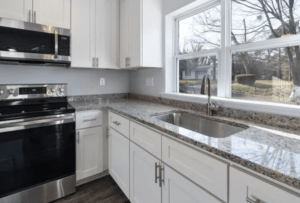 Granite is a rock frequently utilized in civil construction because of its strength and durability.
Granite is a fantastic alternative for anyone searching for high-value and traditional design in kitchen countertop construction. It is also convenient to maintain and simple to use. On the other hand, stone's usage as ornamentation is constrained by the abundance of visual components in its composition.
Black granite is the most popular because it is more uniform and shiny. Composite materials should gradually take their place since they have a smaller negative impact on the environment.
Ceramic Countertops
Kitchen countertops can be a focal point of your home's design and function. Whether you are looking for a sleek, modern look or prefer the nostalgia of an old-fashioned kitchen with cabinets, you will want to consider replacing your current countertops. Ceramic countertops are among the most popular choices for kitchen countertop replacement due to their unique appearance and high levels of durability. Ceramic is also very easy to care for – wipe it down with a damp cloth occasionally to keep it looking brand new.
Stainless steel countertops
An iron and chromium alloy with qualities superior to those of conventional steels and strong resistance to air oxidation is known as stainless steel or stainless steel.
These qualities make stainless steel a popular material for kitchenware, including pans, cutlery, and utensils. Industrial kitchens in restaurants or food manufacturing facilities are where stainless steel surfaces are most frequently found. It then moved into the kitchens of those who enjoy cooking and food.
Some of this material's advantages include convenience, cleanliness, and durability. Simple maintenance is required, and the market has a variety of products specifically designed for cleaning stainless steel.
The ability to produce items in a single block with a vat, pediment, and accessories like garbage cans and dish racks is another benefit of using stainless steel.
Marble Countertops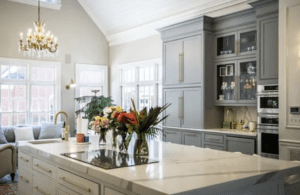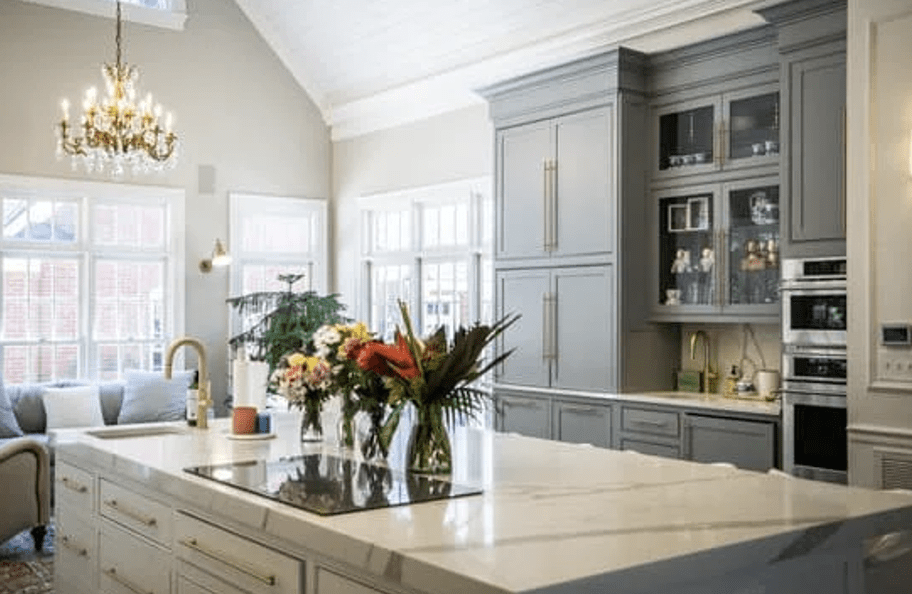 Quartz makes up around 90% of composite marbles, with the remaining 10% made of synthetic resins. This material's homogeneity, or consistent look, is one of its major benefits for use as a kitchen countertop.
Additionally, composite marble is sanitary, resistant, durable, and simple to maintain. Another crucial characteristic is the material's ability to decompose after being soiled or scraped.
Recovery is accomplished by cutting off the damaged region and replacing it with the same material with undetectable seams. Due to these qualities and the fact that it is an imported material, composite marble could be more cost-effective.
Eugene's Marble & Granite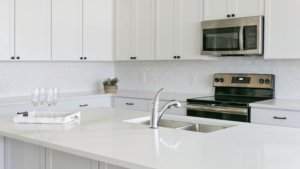 If you're ever stuck on a design challenge and need some guidance, Eugene's Marble & Granite is here to help.
We specialize in designing and installing interior quartz, marble, and granite surfaces, so we know just how to make your home look its best. With our years of experience working with various materials and styles, we can help you find the perfect solution for your project — no matter what. Give us a call today to schedule a consultation!