What are the most popular countertops in Charleston Today
In Charleston, SC, granite and quartz countertops are among the most popular options for homeowners. These materials provide sturdiness and a variety of design possibilities to complement any style. Due to their minimal care requirements and resilience to stains and scratches, quartz countertops in particular have grown in popularity.
In Charleston, marble and laminate are also common countertop materials in addition to quartz and granite. Marble gives any kitchen or bathroom a timeless and upscale appearance, but it needs frequent cleaning to avoid stains. Contrarily, laminate is a more reasonably priced choice that comes in a range of colors and designs. However, it might not last as long as quartz or granite and must be replaced more frequently.
Popular Countertop Materials in Charleston
When upgrading or constructing their kitchens, Charleston residents may pick from a number of popular countertop materials. Concrete, marble, granite, and quartz are among the most often used materials. Each material has special traits and advantages that make it the perfect option for certain sorts of homes.
Quartz Countertops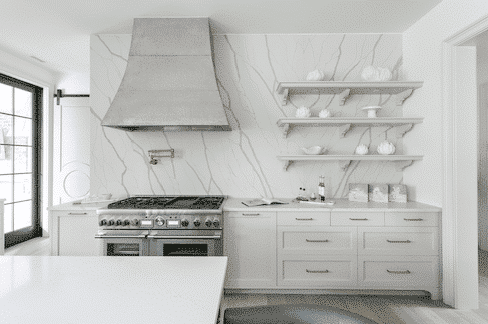 Charleston residents increasingly embrace quartz worktops because of their dependability, ease of upkeep, and variety. They have a non-porous surface that withstands heat, stains, and scratches since they are constructed from a mixture of natural quartz and resins. With the variety of colors and patterns available in quartz countertops in Charleston, finding the ideal complement for any kitchen design is simple. They are a favorite among busy households since they are simple to maintain and clean.
Granite Countertops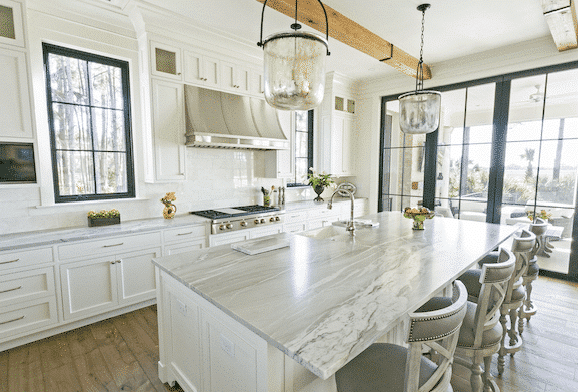 Another popular option for Charleston residents is granite countertops. Because they are constructed of natural stone, each slab has a distinct color and design. Granite can survive normal wear and tear since it is a hardy, heat-resistant material. It is a fantastic option for busy kitchens because it is also quite simple to maintain and clean. However, because granite is a natural stone, it has to be sealed on a regular basis to prevent stains and dings.
Marble Countertops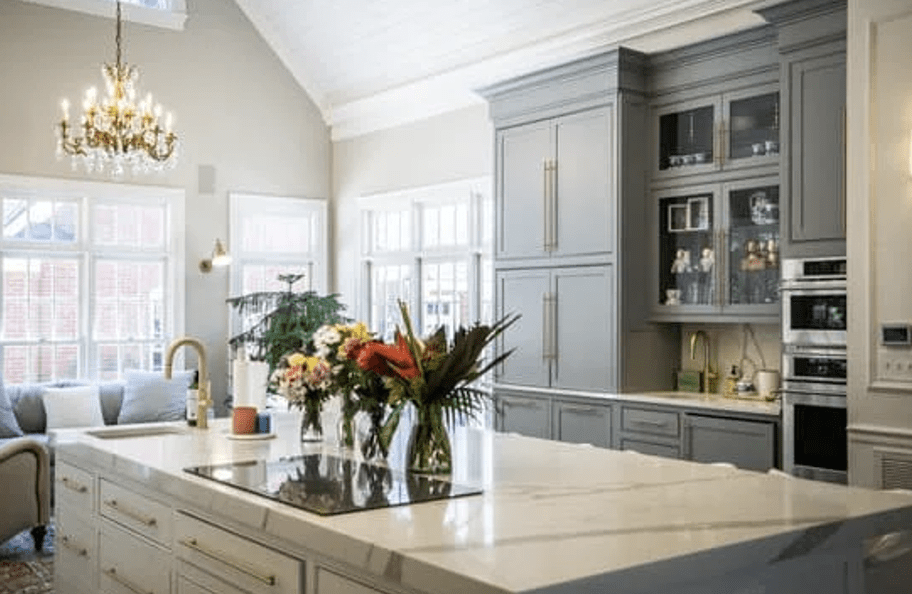 Charleston residents who want elegant worktops can choose marble. They have a distinctive and attractive look since they are constructed of genuine stone. Due to its softness and porousness, marble is prone to etching, stains, and scratches. But with the right upkeep, marble can last a lifetime and increase the value of any house. Lemon juice and vinegar, two acidic chemicals that might damage the marble's surface, must be avoided.
Concrete Countertops
For homeowners who want their kitchens to have a contemporary, industrial design, concrete worktops are a popular option. A combination of cement, sand, and water is poured into molds to manufacture them, and the surface is polished to provide a smooth and lasting finish. Concrete countertops are a flexible option for any kitchen design since they are available in a number of colors and textures. They are a sturdy option for busy kitchens because they are also heat- and scratch-resistant.
Emerging Trends in Charleston Countertops
Charleston is recognized for its amazing architecture, interesting history, and breathtaking coastline. In the metropolis, there are many distinctive and chic kitchen designs. In recent years, the desire for eco-friendly, colorful, and inventive countertops has increased in Charleston. For Charleston, here are a couple of fresh countertop trends.
Eco-Friendly Countertops: In Charleston, eco-friendly countertops are growing in popularity. Sustainable, ecologically friendly, and long-lasting materials are what homeowners are seeking. Concrete, bamboo, and recycled glass are a few of the most well-liked green building materials. Post-consumer glass is used to make recycled glass countertops, which are available in a range of hues and patterns. Bamboo is a renewable resource, and bamboo countertops are quite strong. Additionally, eco-friendly concrete countertops have a distinctive and contemporary appearance.
Color and Texture Trends: When picking countertops in Charleston, color and texture are also crucial considerations. Countertops that are both practical and visually beautiful are what homeowners are searching for. The most widely used hues are white, black, and gray. Because of their distinctive patterns and textures, natural stone surfaces like granite and marble are extremely well-liked. Additionally, homeowners are choosing matte finishes because they provide a clean, contemporary aesthetic.
Innovative Material Trends: Additionally, innovative materials are gaining popularity in Charleston. The materials homeowners use to construct their residences should be both functional and contemporary in appearance. Among the most advanced materials are stainless steel, quartz, and porcelain. Quartz countertops are available in a variety of colors and patterns and are extremely resilient. Ceramic countertops have a distinct, modern appearance and are also quite resilient. The industrial look of stainless steel countertops is suitable for contemporary kitchens.
Factors Influencing Popularity
Numerous elements might affect a countertop's appeal when it comes to selection. Quartz, granite, and marble are some of the most popular countertop materials in Charleston. Let's examine some of the elements that contribute to their appeal in more detail.
Durability: Countertops are quite popular in Charleston for a variety of reasons, one of which is their durability. For instance, quartz is a manufactured stone designed to be extremely resilient to harm. Compared to other materials like granite or marble, it is more resistant to stains, scratches, and heat thanks to its 93% real quartz content and 7% resin content. Although quartz is noted for its durability, granite, and marble require more upkeep to maintain their best appearance.
Maintenance: When selecting a countertop, maintenance is also crucial to take into account. The simplest material to maintain is quartz because it doesn't need sealing or specialized cleansers. On the other hand, granite and marble require routine sealing to guard against stains and damage. Marble is also more prone to etching and scratches from acidic liquids like vinegar or lemon juice. Quartz is unquestionably the best option for consumers looking for a low-maintenance countertop.
Cost: The price is yet another aspect that may have an impact on the demand for countertops in Charleston. Granite and marble are often the least costly options, with quartz being in the center. Quartz, however, may end up being a more cost-effective option in the long term due to its durability and ease of upkeep. Although granite and marble may initially be more economical, they require more upkeep and may need to be changed more frequently than quartz.
Choosing the Right Countertop for Your Home
There are a number of things to take into account while selecting the ideal countertop for your Charleston house. In Charleston, quartz, granite, and marble are the most often used countertop materials. Each material has distinctive qualities of its own that can make it better suited to particular types of homes and lifestyles.
Quartz Countertops
Due to their longevity and ease of maintenance, quartz countertops are a preferred option for homeowners in Charleston. They are resistant to heat, stains, and scratches since they are created from a mix of natural quartz and resin. Finding a design that complements your home's decor is simple with quartz countertops since they are available in a huge range of colors and patterns.
Granite Countertops
Another popular option for Charleston residents is granite countertops. They are recognized for their sturdiness and distinctive designs and are constructed of natural stone. Granite is a fantastic option for ardent cooks since it is heat-resistant and can tolerate high temperatures. Granite countertops must be regularly sealed, though, to avoid stains.
Marble Countertops
For homeowners in Charleston, marble worktops are an opulent option. They are renowned for their distinctive veining patterns and exquisite look. Marble, on the other hand, is a softer stone than granite and quartz and is more prone to stains and scratches. To keep marble countertops looking their best, routine upkeep and sealing are required.
Takeaways
If you are ready to install new countertops in Charleston, SC, stop by our showroom to view a wide variety of colors and materials at affordable prices. We will be with you every step of the way to provide the best service.