What Are Best Countertops in Charleston For Your Kitchen
In Charleston, the
pursuit for that perfect countertop
can often feel bewildering. A countertop isn't merely a surface; it defines your kitchen's personality and functionality. Be it granite, with its timeless elegance, quartz countertops offering a blend of luxury and durability, or enchanting marble countertops, finding the best fit can be a task.
Fear not, for we're here to simplify your search for the best countertops for your kitchen in Charleston. This city, including North Charleston, boasts a wide array of options that cater to your unique needs, taste, and budget. We invite you to journey with us through this blog, where we'll explore, scrutinize, and offer insights on different countertops available in Charleston, SC.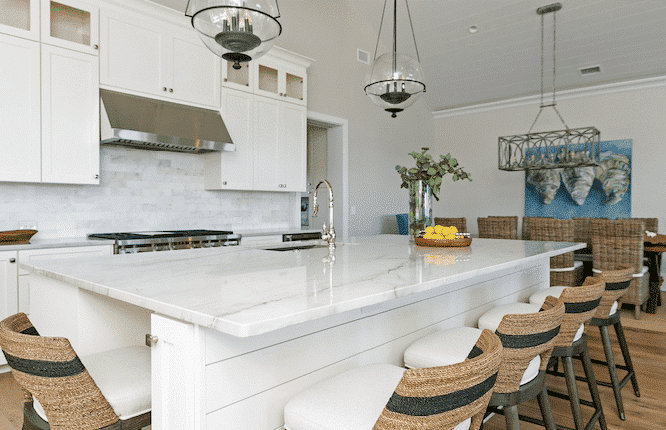 Introduction: 
We'll delve into the realms of quartz countertops in Charleston and beyond, hoping to assist you in making an informed choice—effectively transforming your kitchen into your dream space.
Embarking on a quest to uncover enchanting granite countertops in Charleston? You're in the right place. Revamping your kitchen or bathroom can be a thrilling adventure, especially when stepping foot in an enticing showroom full of shimmering slabs of natural stone.
The prospect of selecting new countertops, be it for your kitchen or your tranquil bathroom, offers a chance to inject personal flair into your beloved abode. We understand. You, the discerning homeowner, know that beyond the aesthetic appeal, durability matters too. You need a countertop material that stands the test of time. Marble countertops might catch your eye with their distinct veining, but how do they fare on the durability scale? Let's dive into the world of countertops and explore your options. Sit back, relax, and let us guide you through the labyrinth of kitchen and bathroom countertops.
Granite Countertops in Charleston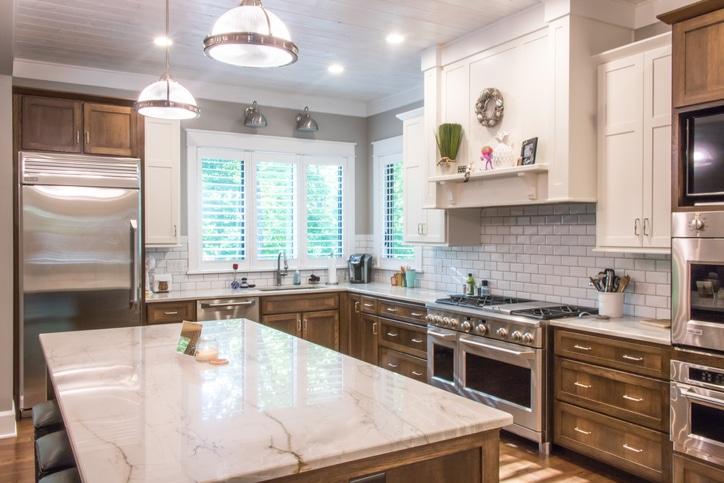 When it comes to countertops in Charleston, SC, choices abound. Yet, there's something about the allure of granite that sets it apart. Granite countertops come in a dazzling array of shades, each hue a testament to the beauty of nature. These slabs, hewn from stone, bear marks of their journey – each stain and scratch adds to their charm. From selection to installation, it's a process laden with choices. We're with you, guiding you through an unparalleled selection process. Durable granite counters resist the wear and tear of daily life. At our showroom, you can witness firsthand the artistry involved in the fabrication process. Whether you're remodeling your space or starting from scratch, these counters promise a unique blend of functionality and aesthetics. Visit our showroom and let the beauty of the best countertops beckon you.
Popular Choice for Granite Countertops in Charleston
Peek into any Charleston home, and one feature might stand out: the granite countertop. Homeowners find themselves drawn to these surfaces, their charm undeniable. Granite, a natural stone, carries a reputation for strength and longevity. A lot of companies offer a wide range of options, but make sure to pick the best one for you. Homeowners seeking to shape their dream kitchen or bath can find what suits their taste among the numerous colors and patterns available.
Granite countertops, beyond their aesthetic charm, offer practicality. They resist heat, an essential characteristic in any kitchen or bathroom. When preparing meals, baking, or styling hair, homeowners need not worry about damaging the surface. Furthermore, maintenance poses no major challenge. Regular sealing ensures the surface stays resistant to water and stains, keeping it as stunning as when it was first installed.
In the heart of South Carolina, located in Charleston, exists a haven for those seeking the perfect granite countertop. We are ready to help homeowners realize their dream countertops. The company's offerings extend beyond just granite, welcoming those who may prefer quartz countertop options.
Benefits of Granite Countertops
The
allure of granite countertops
stretches beyond their beauty. Granite, with its natural formation, brings an earthy feel into a kitchen or bath. Even within the bustling city, homeowners can still experience a touch of nature.
Each slab is unique, adding a sense of exclusivity to your Charleston home.
Granite countertops are robust, withstanding the rigors of daily use. For a bustling kitchen, this durability proves invaluable.
Scratches and chips are rare, ensuring the surface stays pristine for years.
Even hot pans or curling irons pose no threat to its integrity.
The longevity of granite often outlasts the life of the kitchen or bathroom it graces.
Granite countertops can also increase home value, a bonus for homeowners with an eye on selling. Potential buyers often appreciate the durability and aesthetic of a granite countertop, making it a lucrative investment. Dream kitchens with granite countertops can help sell a Charleston home quickly and at a higher price.
Quartz Countertops in Charleston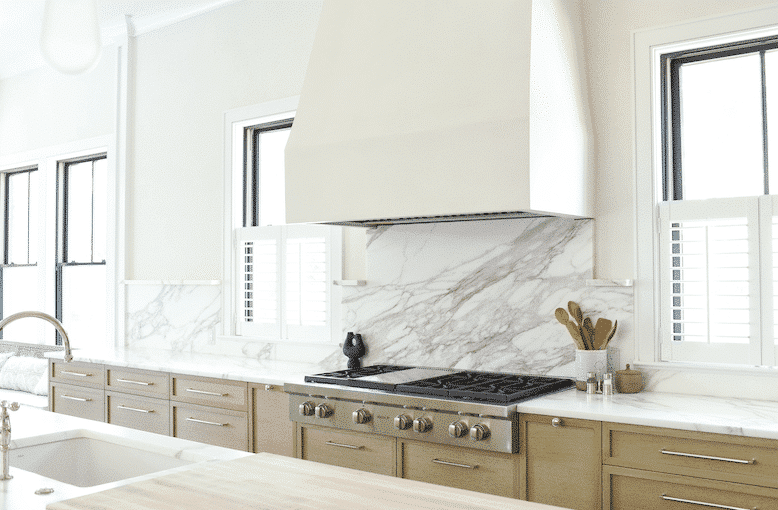 Ponder for a moment. Sparkling quartz countertops, admired for
durability and grace of kitchens in Charleston
. With a look rivaling granite, a material derived from nature itself, quartz prevails in modern homes. A visit to a Charleston showroom will reveal the allure of these solid surfaces. A spectacle to behold, they offer a taste of luxury, easy to work with and maintain.
Quartz, robust and visually appealing, has ascended in popularity. Those who have had the opportunity to see it in person, in showrooms across Charleston, would highly recommend it. Its resilience equals that of materials resembling granite. Its aesthetic charm matches that of the marble countertops found in Charleston.
Your dream kitchen awaits with quartz countertops. Create an elegant space with a solid surface that mirrors the charms of materials such as granite. The design specialists at Charleston Company can always help with all your countertop needs and questions. Their expertise provides a seamless path to your desired kitchen aesthetic.
Advantages of Quartz Countertops
Quartz countertops bring a host of benefits. Foremost, durability. You'll find it rivals the hardiness of other materials. Consider the naturally occurring granite. Quartz mirrors its robustness yet offers a consistency in pattern not found with natural stone.
Quartz Maintenance
Ease of maintenance forms another pillar of quartz's appeal. Unlike surfaces like marble, quartz surfaces resist staining. Thus, kitchens graced with quartz countertops become an inviting space for food preparation, serving, and enjoying. An easy-to-work-with material, quartz reduces the upkeep effort significantly.
Eco-Friendly Quartz
Quartz countertops present an eco-friendly option. They contain waste stone, thus reducing the need for quarrying, unlike materials such as granite. This attribute makes quartz countertops a choice that reflects environmental consciousness.
Choosing the Right Color and Style Quartz Countertop Options for Kitchen
When it comes to choosing the right quartz countertop color and style for your kitchen, there are certain key points one must ponder.
Consider your kitchen's overall aesthetic. You should aim for a countertop that complements the existing decor.
Don't overlook the importance of natural and artificial lighting in your kitchen. It plays a significant role in how your quartz countertop appears.
Quartz countertops are available in a plethora of colors and styles, each with its unique charm. From pristine whites to moody blacks and everything in between, the options are abundant. Find the tone that calls your name. After all, it will become a focal point of your kitchen.
The versatility of quartz allows for a variety of edge styles and finishes. It can be polished for a glossy finish, honed for a matte look, or sandblasted for a textured surface. The edge of your countertop can be rounded, beveled, or squared. The choice ultimately hinges upon your personal taste and the style of your kitchen.
Quartz vs. Granite Countertops
Comparing quartz and granite countertops presents a challenge. Both offer their own unique benefits.
Quartz countertops, for example, are available in various colors and patterns.
Unlike granite, quartz manufacturing allows for customization. For homeowners seeking a specific look in their dream kitchen or bath, quartz provides more flexibility.
Yet, despite the customization options, quartz cannot replicate the one-of-a-kind allure of granite. Each granite slab is unique, its pattern determined by the natural processes that formed it. For homeowners who seek authenticity and exclusivity, granite stands out.
Quartz countertops, however, offer a more uniform and predictable pattern. This uniformity can ease the design process, ensuring that all elements of a kitchen or bathroom match perfectly.
In the end, the choice between quartz and granite countertops depends on individual preferences and the specific requirements of their dream countertops.
Homeowners in Charleston can find both quartz and granite countertops at Eugene's Marble and Granite, located in Charleston. They can help make any kitchen countertops in Charleston dream come true.
Marble Countertops in Charleston
Marble countertops carry a timeless elegance, and Charleston, a city steeped in history, offers the perfect backdrop. From downtown lofts to suburban homes, marble adds a touch of luxury. Countertops in Charleston always speak to the city's classic style. Marble countertops, providing a range of colors, mimic Charleston's vivid palette.
Engineered quartz, though, introduces a modern twist. Its color range matches marble but offers durability. Just as Charleston manages to blend history and innovation, so too can your home with the right countertop selection.
Unlike marble or granite, quartz countertops are non-porous. This trait makes them resistant to stains, just as the city of Charleston has shown resistance throughout history. A simple cleaning with soap and water keeps these countertops shiny, much like the sparkle of the Cooper River under the sun.
Marble's charm lies in its unique colors and patterns
, much like the patchwork quilt of Charleston's architecture.
Elegant and Luxurious Marble Countertops
Stone countertops are a symbol of refinement. When clients speak of our work, they often express satisfaction with our friendly and professional approach. Our job is to make amazing transformations, and marble countertops allow us to do just that.
The elegance of marble is undeniable. Each slab is unique, offering an array of colors and patterns rarely found in other materials. This individuality sets marble apart, just as the city of Charleston stands apart from any other.
Selecting countertops can be daunting. With so many options available, it's easy to feel overwhelmed. However, choosing marble brings the certainty of enduring elegance. Just as Charleston's cobblestone streets have withstood the test of time, so too will your marble countertops.
Why Consider Marble for Your Kitchen
When planning a kitchen remodel, consider marble countertops as a centerpiece. They come in a wide assortment of colors and patterns, making them a versatile choice. From the inviting whites of Carrara to the dramatic veins of Calacatta, marble offers options to suit any design aesthetic.
Quartz countertops offer a different appeal. Engineered from one of the hardest minerals on earth, they are incredibly durable. If you appreciate the look of marble but seek something more resilient, quartz may be the answer.
Marble and quartz, both splendid options, reflect Charleston's diverse architectural landscape. From the Battery's historic homes to the modern condos in the upper peninsula, there's a countertop material to match every style. As you plan your kitchen remodel, remember that the best countertops are not only beautiful but also function as a testament to your personal style.
Solid Surface Countertops
Let's talk about solid surface countertops. These are man-made, versatile, and available in a plethora of colors and patterns. Their seamless design and resistance to bacteria make them a popular choice for kitchens. Easy to clean and maintain, they are a boon for those who love cooking but dread the cleanup.
They offer a seamless design, which means no annoying cracks where crumbs can hide. Plus, minor damages such as scratches or burns can be easily repaired. They are non-porous, meaning they resist stains and keep bacteria at bay — definitely a plus for your kitchen.
Owning a solid surface countertop suggests a wise investment. Being a blend of aesthetics, function, and durability, it's the kind of countertop that makes you want to roll up your sleeves and start cooking. And with their long-lasting appeal, it's a decision you'll be proud of for many years to come.
Kitchen Countertop Options in Charleston
If you need countertops in Charleston, we offer a myriad of options. You might find yourself pondering, "Should I replace our countertops?" Well, let me tell you, quartz countertops come with a wealth of benefits. Their durability and aesthetic appeal make them a prime choice for any kitchen and bath renovation. Among the best you'll find is the high-quality countertop selection available in our charming city.
Whether you're choosing a countertop for a new build or a refresh, you'll be spoilt for choice. High-quality countertops grace the showrooms, ready to transform your kitchen into an amazing experience. Entrust your countertop project to the best installation team around. They'll work tirelessly to create your dream space and meet all your countertop needs.
A quick word on service – it's top drawer here. The friendly experts bring over 30 years of experience to the table. They'll guide you through the process, ensuring your kitchen shines for many years to come. Indoor and outdoor kitchens alike will benefit from their seasoned expertise.
Exploring Different Countertop Materials
Stepping into the world of countertop materials, you'll discover a variety of naturally occurring stones. Interior designers often lean toward these for their natural beauty and resilience. If you're seeking out countertops for your kitchen, consider the variety of stones available. From marble to limestone and everything in between, your countertop project can be as unique as you are.
One might ponder, "Why should I choose granite when there are so many other options?" Well, the answer lies in the stone's natural beauty and durability. There is no need to worry about hot pots and pans damaging this robust surface. Granite stands strong against the test of time, making it a worthy choice for countertop fabrication.
When you commit to granite, you're signing up for a kitchen surface that's bound to impress. With its unique patterns and colors, a granite countertop can become the centerpiece of your kitchen. Couple that with its heat resistance, and you've got yourself a winner.
Choosing the Best Countertop for Your Kitchen
Selecting the best countertop for your kitchen feels daunting, no doubt. The market is awash with options. Yet remember, the best choice depends on your personal taste, kitchen usage, and budget. Consult with experts, take samples home, and envision your dream space, and your decision might become a bit easier.
Conclusion
A countertop can blend into the design or become a standout feature, so choose what suits your style. Some prefer the understated elegance of stainless steel, while others are drawn to the glossy charm of quartz. Whichever you choose, make sure it's a decision you'll love for many years to come.
Being part of this journey, watching your dream kitchen materialize, is truly special. Whether you're all about aesthetics, durability, or both, the perfect countertop is waiting for you in Charleston. And remember, every countertop tells a story, so choose one that tells yours.