What are Prices for Granite Countertops in Charleston?
What is a good price for granite countertops in Charleston? Granite countertops are one of the elegant additions to your kitchen. We all want to make our kitchen durable and appealing.
But it is a fact that countertops' pricing and budget play a significant role in choosing granite countertops. However, a survey shows more than 64% of new houses feature granite countertops due to their durability and unique styles.
The price of granite countertops in Charleston depends on various factors. If you are also planning to update your kitchen countertops with granite countertops, then ensure to do your homework by getting the average cost.
Here we will share the average pricing of granite countertops in Charleston that will help you estimate the price of your kitchen countertops.
Pricing of Granite Countertops Charleston
It is essential to look for the pricing of granite countertops before starting domestic and commercial projects. The average pricing of granite countertops will give you an idea about your budget and how other factors will influence it. Granite countertops come with unique designs, patterns, and material quality.
The average cost of granite countertops in Charleston is $49 to $81 per square foot. Suppose we sum up the cost of granite countertops, including its labor, fabrication, and all other aspects. In that case, the cost of an average kitchen will be around $3,500. Of course, if the kitchen is larger the cost will go up. Therefore the average cost varies according to your kitchen countertop size and the material quality you choose for your countertops.
Factors affecting the prices of granite countertops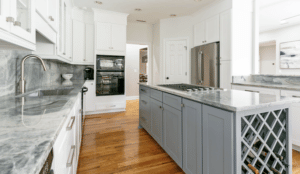 Everyone has different requirements for kitchen countertops that also affect the final pricing of granite countertop installation. So the costs of granite countertops vary based on granite type, installation process, countertop thickness, edges profile, and cutouts.
● The price of a granite countertop has a significant impact on the type that you choose. Some high-quality granite countertops feature vibrant colors and patterns. The cost of high-quality countertops is around $100 per square foot. However, the low-quality granite countertop prices are about $49 per square foot.
● The granite countertop size will also impact the final pricing. The large countertop size means the more expensive granite countertops. Regarding pricing, according to your countertop size, it will cost around $2000 to $5000.
● There are different edge profiles in granite countertops, including straight, bullnose, ogee, and customized. However, the edge profile of granite countertops will also increase or decrease the pricing in charleston.
● The cutouts in the kitchen countertop will also cost around $200. However, the sink or other cutout size will affect its cost of it. The average charge for granite countertops cutouts in Charleston is about $100 to $500.
Now, if you are also planning to change or update the kitchen countertop, then hire professional services.
You can get good pricing on granite countertops by Eugene's Marble and granite in Charleston. We are here to serve you with the best pricing and expert services for installing unique granite countertops according to your choice.