Granite Countertops Charleston
How to UpKeep Granite Countertops
Are you searching for a solution to give your kitchen or bathroom a more sophisticated and stylish appearance? There's no need to go any farther than granite for your countertops! They are not only beautiful to look at, but they also have excellent endurance as well as resistance to heat and scratches. On the other hand, just like any other surface in your house, they need the appropriate care and upkeep in order to continue looking their best. 
In this article, we will delve into the world of granite countertops, discussing everything from their composition to the best way to clean and care for them throughout the course of their lifetime. So take a deep breath, put your feet up, and let us walk you through the steps of keeping your granite countertops in pristine condition for many years to come.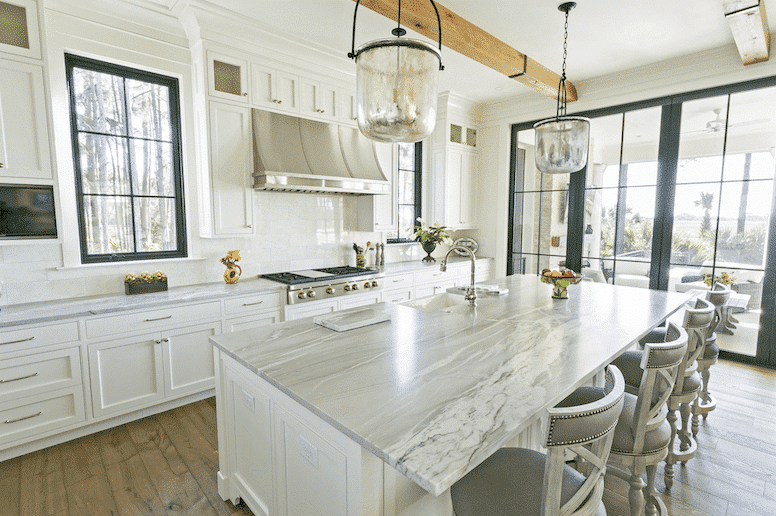 The Benefits of Granite Countertops
Granite is a popular material for countertops due to its durability, beauty, and versatility. It is an igneous rock that is formed from the cooling of molten magma deep beneath the earth's surface. Granite comes in a variety of colors and patterns, making it easy to match any design style.
Here are the benefits of keeping your granite countertops clean:
One major benefit of granite countertops is their durability. They are heat-resistant, scratch-resistant, and stain-resistant, which makes them perfect for high-traffic areas like kitchens or bathrooms. Granite also holds up well against everyday wear and tear, making it a long-lasting investment.

In addition to being durable, granite adds value to your home. Potential buyers often look for homes with updated kitchens and bathrooms featuring beautiful countertops like granite. Installing granite can increase the resale value of your property.

Granite countertops are a low maintenance nature. A simple wipe-down with warm water and mild soap will keep them clean and looking new for years to come. Granite does not require sealing as frequently as other materials like marble or quartz.

The eco-friendliness of granite is one of the many reasons to choose it over other countertop materials. Because it is obtained in a natural way from deep under the Earth's crust, the production of this substance does not involve the use of any man-made, synthetic, or artificial manufacturing techniques. 
Purchasing granite countertops as an investment has several advantages, some of which include increased home value, longevity, and eco-friendliness, to name just a few!
How to Keep Your Granite Countertops Clean 
Here are the tips on how to keep your granite countertops clean: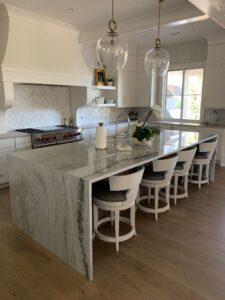 Wipe spills immediately to prevent staining.

 Use a soft cloth or sponge with mild soap for cleaning.
Avoid harsh chemicals and abrasive cleaners.
Use trivets or mats to protect from hot pots or pans.
Dry the countertop thoroughly after cleaning to prevent water stains.
Consider sealing the countertops every year or two.
Granite Countertop Care and Maintenance Tips
You can preserve the stunning appearance of your granite worktops for many years to come by paying attention to the cleaning and maintenance recommendations included in this article. Keep in mind that spills should be cleaned up as soon as they occur, that cutting boards and trivets should be used to protect the surface from scratches and heat damage, that abrasive cleaners and equipment should be avoided, that countertops should be resealed on a regular basis, and that you should contact a professional if any significant damage is seen.
It is not only necessary for the aesthetic of your granite countertops to take proper care of them, but it is also crucial for the life of the worktops. They have the potential to be a worthwhile investment that increases the value of your house while also enhancing its aesthetic appeal when properly maintained. Don't waste any more time thinking about it; start cleaning those surfaces right now!
Granite and its Qualities
Granite is a kind of natural stone that has been used for building and embellishment purposes for hundreds of years. It is an igneous rock, which means that it was produced by the cooling of lava deep under the crust of the planet. This is what gives it its distinctive structure and characteristics. 
Granite is one of the most well-liked materials for countertop use owing to the fact that it is both long-lasting and aesthetically pleasing. Its natural patterns and hues provide an opulent appearance that is versatile enough to suit the decor of any kitchen or bathroom.
Granite is very scratch-, heat-, and stain-resistant, which is one of the reasons it has such a long lifespan. Because of this, it is an excellent option for high-traffic areas like kitchens, which are prone to accidents involving liquid spillage.
It is essential to keep in mind that not all granites are made to the same standards. Some of them could be more porous than others, which would make them more prone to discoloration if they were not handled. However, even the most porous granite may retain its stunning appearance for decades so long as it is properly sealed and maintained.
When you choose granite as the material for your countertops, you are making an investment in a product that will endure for a long time, boast enduring beauty, and increase the value of your house.
Conclusion
It is not difficult to keep granite countertops clean and looking their best, but it does require some time and work. Granite countertops are a beautiful addition to any kitchen. You can retain the lovely appearance of your granite countertops for many years to come if you use the appropriate cleaning products and perform routine maintenance on them. It is important to remember to seal them on a regular basis since doing so will help preserve the surface from being scratched and stained. Feel free to get in touch with one of our devoted customer service specialists at any time if you ever need clarification on how to care after the granite surfaces of your Charleston Countertop properly; they are always delighted to assist!