Affordable Countertops in Charleston
Are you tired of your kitchen looking dull and outdated? Do you dream of having sleek, modern countertops but think it needs to be cheaper? Well, we have good news for you! You can transform your kitchen with affordable countertops in Charleston. Not only we will find stylish and durable countertops for you, but they also add value to your home. 
In this blog post, we will explore different ways to upgrade your kitchen using granite countertops as well as other cost-effective options that will elevate the look and functionality of your space. Get ready to say goodbye to bland counters and hello to a stunning new kitchen!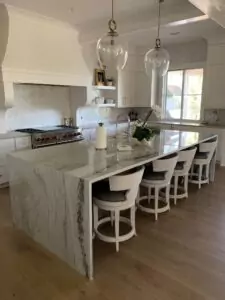 Extend Counter Space with an Island
One of the most effective ways to transform your kitchen is by extending counter space with an island. This adds more workspace and serves as a focal point in the room.
When choosing an island, consider its size and shape according to your kitchen layout. If you have limited space, opt for a small portable island that can be moved around as needed. For larger kitchens, a permanent custom-made island would be ideal.
In addition to providing extra counter space, islands also offer storage solutions such as cabinets and drawers. You can even add appliances like cooktops or sinks to make it even more functional.
To make your island stand out, try using different materials for the countertop than the rest of your kitchen counters. For example, if you have granite countertops throughout your kitchen, use a butcher block or marble on top of the island for contrast.
Adding an island is a simple yet effective way to update and upgrade any kitchen while increasing functionality at the same time.
Get Funky with Terrazzo
Terrazzo is a unique and trendy countertop option that has been making a comeback in recent years. This funky material is made from chips of marble, quartz, glass, or granite mixed with concrete or epoxy resin to create an eye-catching speckled pattern.
One great thing about terrazzo countertops is their versatility – they can be customized to fit any kitchen style and color scheme. Whether you prefer a bold pop of color or more subtle neutral tones, there's sure to be a terrazzo option for you.
Another benefit of using terrazzo as your countertop material is its durability. It's resistant to scratches, stains, and heat damage which makes it perfect for high-traffic kitchens where spills and accidents are likely.
In addition to being durable, terrazzo is also eco-friendly because it's made with recycled materials like broken glass and stone fragments. Plus, since it lasts so long without needing replacement or repairs, it reduces waste in the long run.
If you're looking to add some fun flair to your kitchen while also choosing an environmentally friendly and durable option, consider getting funky with terrazzo countertops!
Use Quartz Countertops & Overlays
Quartz countertops and overlays are another affordable options to transform your kitchen. Quartz is a durable material that resists scratches, cracks, and stains. It's also low maintenance as it doesn't require sealing like granite or marble.
Quartz countertops come in a variety of colors and patterns, so you can choose one that fits your style. You can even opt for quartz overlays that go over existing countertops without the need for demolition or removal.
When installing quartz countertops or overlays, make sure to hire a professional installer who has experience working with this material. They will ensure proper measurements and installation techniques to prevent any issues down the line.
Using quartz countertops or overlays is an excellent way to give your kitchen a fresh look while staying within budget. Plus, the durability of quartz means they'll last for years to come!
Give Granite Countertops a Try
One of the most popular and reliable options for a kitchen countertop is granite. Granite countertops are known for their durability, elegance, and uniqueness. They come in various colors and patterns that suit any kitchen style.
Granite is an igneous rock that's formed from cooled magma deep within the earth's crust. It's tough enough to withstand heat, scratches, stains, and heavy use without sustaining damage or losing its luster.
The natural beauty of granite adds value to your home while giving you a functional surface area that lasts for years. By choosing granite countertops as part of your kitchen renovation project, you're investing in high-quality materials with long-term benefits.
One way to enhance the appeal of your granite countertops is by adding complementary backsplash tiles that highlight the beauty and texture of each slab. Another idea is to choose contrasting cabinet colors to make your counters stand out even more.
If you're looking for a cost-effective way to transform your Charleston kitchen into an elegant space with unbeatable functionality – give granite countertops a try!
Create Seamless Waterfall Counters
Are you looking for a modern and sleek look in your kitchen? Creating seamless waterfall counters is the perfect option for you. This design trend involves extending the countertop material vertically down to the floor on one or both sides of an island or peninsula, giving it a seamless "waterfall" effect.
Waterfall countertops are available in a variety of materials, such as granite, marble, quartz, and even wood. The style is versatile enough to fit into any kitchen design theme – from contemporary to traditional.
One benefit of having waterfall counters is that they can add extra storage underneath them without sacrificing space. You can install cabinets or shelves within the counter's base, providing an additional area for storage.
Another advantage is its durability and heat-resistant, making it ideal for cooking areas near stovetops. Additionally, water-resistant surfaces make cleaning up after meal prep much easier!
Creating seamless waterfall counters adds function and aesthetic value to your kitchen. It's definitely worth considering if you want to change things up and give your home a fresh new look!
Conclusion
There are many affordable and stylish countertops to transform your kitchen with new countertops. From extending counter space with an island to experimenting with different materials like granite, quartz, terrazzo, or various metal options, you can easily refresh the look of your kitchen without breaking the bank.
By following these tips, you can create a personalized kitchen that is both functional and beautiful. So why wait? Start planning your dream kitchen renovation today!