When it comes to remodeling your kitchen or bathroom in Charleston, countertops remodel project presents an excellent opportunity to revitalize your space with a blend of beauty and functionality. However, finding creative ideas for your countertops can be a daunting task.
In this article, we will explore effective strategies to inspire and guide you in generating innovative and distinctive ideas for your countertops remodel project in Charleston.
How to Come up with Creative Ideas for Your Countertops Remodel Project in Charleston?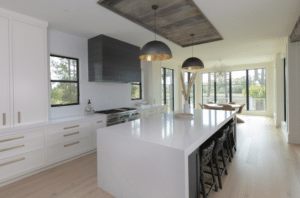 Research Countertops and Gather Inspiration
To begin your countertops remodel journey, start by immersing yourself in thorough research and gathering inspiration from a variety of sources.
Delve into design magazines
explore online platforms
peruse social media
visit home improvement websites
Pay close attention to images, articles, and testimonials that align with your personal style and the overall design scheme of your home.
Save or bookmark the ones that captivate your attention and resonate with you.
By immersing yourself in the vast world of countertop design, you will gain valuable insights into different styles, materials, colors, and patterns. Take note of the features that appeal to you, whether it's the use of specific materials, unique textures, or eye-catching combinations. This dedicated research phase will not only refine your preferences but also provide a solid foundation for generating truly creative and inspired ideas.
Consider Your Lifestyle and Needs
Your countertops should not only be visually appealing but also cater to your lifestyle and needs. Take some time to consider how you use your kitchen or bathroom on a daily basis and what functionalities are essential to you.
Are you an avid cook who requires a durable and heat-resistant surface? Do you prioritize eco-friendly options? Are you looking for low-maintenance materials? Reflecting on these aspects will help you narrow down your choices and make informed decisions.
For example, if you love cooking and need a countertop that can withstand heavy use, materials like granite or quartz might be ideal. These materials are known for their durability and resistance to heat, stains, and scratches. On the other hand, if sustainability is important to you, explore options such as recycled glass or bamboo, which offer both environmental benefits and unique aesthetics.
Embrace Local Influences
Charleston boasts a rich cultural heritage, and incorporating local influences into your countertops can add a unique and personalized touch to your remodel project. Take inspiration from the city's architecture, historical landmarks, natural surroundings, and vibrant colors. Look for ways to infuse these elements into your countertops design.
Consider incorporating subtle textures reminiscent of the city's cobblestone streets or the stucco walls of its historic buildings. Explore coastal hues inspired by the nearby ocean or patterns inspired by the local flora and fauna. By infusing your countertops with these local influences, you create a sense of connection with the city and add a touch of Charleston's charm to your space.
Mix and Match Countertop Materials
Creativity often flourishes when you mix and match different countertop materials to create visually captivating and functional spaces. Experiment with combinations of materials like marble, butcher block, concrete, or stainless steel to introduce interesting textures and dynamic focal points.
For instance, consider using a luxurious marble countertops for the kitchen island, while surrounding countertops feature the warmth and natural beauty of butcher block. This contrast not only adds visual interest but also offers functional benefits, allowing you to have a durable surface for meal preparation and a stunning centerpiece for entertaining.
When exploring material combinations, keep in mind their compatibility and how they will complement the overall design of your space. Consider factors such as color coordination, texture harmony, and balance between the different materials. By carefully selecting and mixing countertop materials, you can achieve a unique and personalized look that sets your remodel project apart.
Explore Unique Finishes and Edge Profiles
Sometimes, it's the small details that make a significant impact in countertop design. Experimenting with unique finishes and edge profiles can add character and individuality to your countertops. Consider options such as leathered, honed, or brushed finishes to create a distinct look and feel.
A leathered finish, for example, offers a textured surface that adds depth and sophistication to your countertops. A honed finish, on the other hand, provides a matte appearance that exudes elegance and works well with contemporary or rustic designs. Explore different edge profiles like a waterfall, bullnose, or beveled edges to enhance the overall appearance of your countertops.
The choice of finishes and edge profiles should complement your chosen materials and blend seamlessly with the overall design scheme. These details may seem minor, but they can elevate the aesthetic appeal of your countertops, making them stand out as unique works of art.
Visit Showrooms and Attend Home Expos
To gain more hands-on experience and exposure to the latest countertop trends and innovations, consider visiting showrooms and attending home expos in Charleston. Engage with knowledgeable staff, ask questions, and explore various countertop materials up close.
By interacting with the physical samples, you can better visualize how different materials, finishes, and edge profiles will look and feel in your space. Showrooms and home expos also provide opportunities to witness countertop installations, view design demonstrations, and participate in informative workshops.
These firsthand experiences can spark your creativity, inspire fresh ideas, and give you a better understanding of the options available. You may stumble upon a unique countertop material or design concept that ignites your imagination and sets your remodel project on an exciting path.
Winding Up
Remodeling your countertops in Charleston presents an exciting opportunity to infuse creativity and personality into your kitchen or bathroom.
By conducting thorough research, considering your lifestyle and needs, embracing local influences, mixing materials, and exploring unique finishes and edge profiles, you can generate a wide range of creative ideas for your countertops remodel project. Stay true to your style and preferences while incorporating elements that enhance the functionality and beauty of your space.
Remember, the journey to discovering the perfect countertops is a highly personal and unique process, so enjoy the exploration and let your imagination guide you.
And for budget-conscious options, you can also explore websites like StoneSpiritInc.com, which offers products at affordable prices to help you achieve your remodeling goals without compromising on quality. Happy remodeling!