Kitchen Countertops in Charleston: Evolution of Granite, Quartz, Marble
Are you looking for kitchen countertops in Charleston for your next remodel project? When designing your kitchen, one of the most crucial decisions you'll make is choosing the perfect countertops. Over the years, the kitchen has evolved from a purely functional space to an area where you can express your style and personality.
As countertops are often the focal point of your kitchen, they play a significant role in your overall design theme. Here's a guide to help you if you are wondering what are the best countertops near me.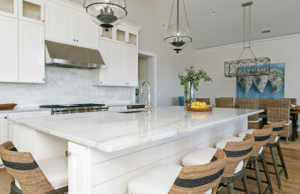 The 1950s-1970s: Formica and Laminate Countertops
The post-war era saw the rise of inexpensive materials, including Formica and laminate countertops. These materials are known for their durability, low cost, and easy maintenance, which made them widespread and popular among homeowners. Formica and laminate countertops were also available in a wide range of colors and patterns, providing homeowners with multiple options.
The 1980s-1990s: Tile and Granite Countertops
During the 1980s, granite countertops started to gain popularity among homeowners. Granite is a completely natural material known for its beauty and durability; it's easy to see why it became a rapidly growing trend in the 1980s. The interest in block-style countertops led to the introduction of tile countertops. Tile countertops are made of either ceramic or stone and offer versatility in design and customization.
2000s-Present: Quartz Countertops
One of the biggest trends in kitchen countertops is Quartz countertops. Quartz countertops in Charleston are a beautiful engineered stone that offers low maintenance, durable, and consistent material with beautiful colors and design options. Many quartz brand names, such as Caesarstone, Cambria, and Silestone, provide the same physical properties and offer a warranty to back them up.
Natural Stone Countertops: A Timeless Choice
Do you want to add natural elegance to your kitchen countertops? If so, then natural stone countertops are an excellent choice for you. Granite, marble, and soapstone offer a unique and individual look and are available in various colors, veining, and patterns.
The Future of Kitchen Countertops
Countertops are integral to your kitchen's design, and the future looks bright. We predict that we'll see more eco-friendly options made from sustainable materials in the decades to come to tackle climate change. There will also be more options for modular and compact kitchens as living spaces become more condensed in big cities. Nevertheless, classic materials like granite, marble, and quartz will remain popular.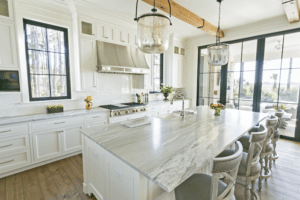 Comparison of Quartz, Granite, and Marble
Quartz, granite, and marble are all popular options for kitchen countertops, but they differ in durability and cost. Here's a comparison of these three materials:
Countertop Durability
Regarding durability, quartz countertops are the most durable of the three. They are made of natural quartz stones and resins that make them resistant to scratches, chips, and stains. They are also non-porous, meaning they don't absorb liquids, making them easy to clean and maintain.
Granite countertops are also durable, but quartz is more resistant to scratches and chips than they are. They are more susceptible to cracking or chipping if you drop a heavy object on them. 
Granite countertops are natural stones and are porous, which makes them more prone to staining if not sealed properly. Marble countertops are the least durable of the three materials. Marble is a soft and porous stone susceptible to cuts, scratches, and stains. 
It's a poor choice for busy kitchens or areas prone to spills because it can easily etch or stain when it comes into contact with acidic substances.
Countertops Cost
Quartz countertops are often the most expensive of the three materials due to the complex manufacturing process that combines natural quartz and resins. A typical quartz countertop installation can often cost between $50 and $100 per square foot.
Granite countertops are less expensive than quartz countertops, but they are costly. The average granite countertop installation costs around $40 to $80 per square foot.
Marble countertops are the most affordable option of the three, but the price can vary depending on the type of marble and where it is sourced. The average marble countertop installation costs around $40 to $100 per square foot.
Eugene's Marble & Granite Countertops
Eugene's Marble & Granite is an excellent company to consider for your kitchen countertop needs. We are experienced in the industry, and our top-of-the-line craftsmanship is second to none. 
Our vast selection of stones worldwide is sure to impress anyone looking for a unique, one-of-a-kind selection.
We provide all types of kitchen countertops like Quartz, Granite, and Marble, and they offer free estimates for your countertop project.
Our team will guide you through the entire process, from the initial consultation to the final installation, ensuring your satisfaction with your new countertops.
If you are wondering what are the top countertops near me, consider checking our website or call us to learn more about our services.