Granite vs Quartz – Why it is critical to know the difference
There are different kinds of kitchen countertop materials in the market. Besides all the kitchen countertop materials, granite vs quartz countertops are trendy due to their key features.
Why it is essential to know the difference between granite vs quartz
Now it needs to be clarified for many of us to choose between granite vs quartz, as both are best. It is only possible when you know the difference between granite and quartz. Both are famous and trendy stones for kitchen countertops that give ideal worth to your money. It will help you to choose the better option between granite and quartz according to your budget and kitchen requirements.
So here, we will share some critical differences between quartz and granite and pricing differences.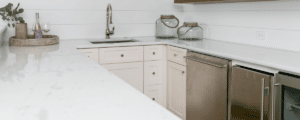 Granite is one of the hard stones that are purely natural. The miners mine the granite stone globally and cut it into reasonable sizes with a fine polished finish. At the same time, the quartz countertop is not purely natural. It has 95 percent natural quartz and the rest of the polymer resins.
Now let's compare the key features of granite and quartz countertops.
Granites come in different colors and patterns. It gives a subtle look to your kitchen with the unique inclusion of minerals. At the same time, the quartz countertops enable you to customize the designs according to your choice. It is an ideal choice to match any color scheme.
You can clean the granite countertops by using soap and water. Granite has more durability than quartz countertops. But you can also wash the quartz countertops with water and soap when it comes to maintenance.
Granite's a more durable material. It is resistant to heat and high temperatures or stains. It has a porous nature. Whereas quartz is a hard stone and durable, you need to pay significant attention to avoid damage from high heat.
Price of granite countertops per square foot
The price of granite countertops increases due to specific reasons. The average cost for granite countertops is around $80 to $110. However, if you have a low budget, consider lower-end granite countertops. The average cost of low-quality granite countertops is about $50 to $70 per square foot.
Price of quartz countertops per square foot
The average price for quartz countertops is around $60 to $75 per square foot. The price for top-notch quartz countertops is about $100 per square foot.
Overall, if you have a small kitchen, you need to invest around $1500 to $2000 to install the quartz countertops—the average quartz countertop per square foot price range between $50 to $100.
Eugene's Marble and Granite is one of the best kitchen countertop companies in Charleston. You can contact us for free quotes for your kitchen granite countertops and professional help. We ensure to provide budget-friendly kitchen countertops according to your choice.