Quartz vs Granite Countertops in Charleston
If you consider remodeling your kitchen or bathroom, it is essential to understand the differences between Quartz and Granite, as both give a solid and rich look.
Quartz vs Granite countertops in Charleston can be a tough choice. Therefore, we have compiled some information to help you through the process. 
Before we start, let us say that both of these add value to the house in terms of look and usage. Whenever you choose a kitchen or bathroom countertop, the main areas to consider are durability, stain resistance, aesthetics, easy-to-clean, and good on-pocket. 
Quartz vs Granite Countertop
Quartz Countertops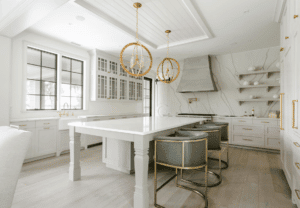 Material
Quartz is a man-made product containing quartz and other minerals, which makes it sturdier. They are ideal for those who seek uniformity in the outlook of the product. It has a variety of colors and textures to choose from – a very important decision factor for quartz vs granite countertops in Charleston. As it's not a natural material, it can give you the finish and quality you seek. Unlike its competitor, quartz is more porous and dense. 
Properties and installation
Quartz is more expensive and heavy than the other, causing an increase in the installation too. It is probably a notch more flexible than Granite, making it easy to install and reducing the chances of breakage. If you are looking for a modern & contemporary look and design, then quartz should be your choice.
Cons
While quartz is easy to maintain, it cannot sustain high heat pots. Thus, it makes the resin melt, causing discoloration and may leave the countertop's finish less lustrous. Further, it is vulnerable to liquids like nail polish remover. The surface is prone to scratches that do not go easily. If your Quartz slab has direct sunlight, it may get discolored to a tinge of yellow. 
Granite Countertops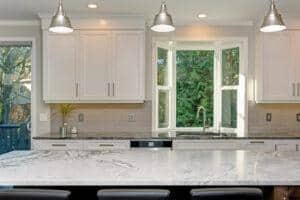 Material
Granite is a natural stone, so the finish will always be unique. There won't be two identical countertops with the same finish. The options to choose from are limitless and unique, of course! Every Granite piece is exclusive and beautiful. 
Properties and installation
Due to the porous and natural properties of the product, it needs to be sealed on an annual basis, which may increase the maintenance cost. On the other hand, Granite does not fade or change color even if direct sunlight falls on it all day. Most of the Granites are easy to clean and leave no stain behind. Comparatively, it is easier to install. These factors often make people choose it when deciding upon quartz vs granite countertops in Charleston.
Cons
In many instances, homeowners get laid back while maintaining the granite countertops. Therefore, they do not get it sealed on a regular basis. This can cause bacteria to make a home in the pores and for the stains to get permanent.  
Now that you are equipped will all the information you need regarding both the materials, you can easily reach a conclusion for Quartz vs Granite Countertops in Charleston.
At Eugene's Marble and Granite, we combine our services with impeccable after-sales reach to ensure maximum customer satisfaction. Our mission is to provide quality and top service to our clients.
Remember! While carrying out renovations, choosing the right business partners is very important. With 20 years of experience, Eugene's Marble and Granite is just what you need by your side.