Install Countertops Charleston
Install Countertops in Charleston SC – The Most Convenient Option for Your Home
Do you want to install countertops in Charleston SC and don't know where to start? We will guide you through every step of the way, from measuring, fabrication until installation.
Do you think a countertop will help reduce the issues you are facing? Let us learn how you can get someone to install countertops.
Are you planning to build your dream house or remodel your current home and need new countertops? Do you want your kitchen to be luxurious in terms of appliances and design? Did you know that the smart kitchen market will reach 43 billion US dollars by 2027? This means that you are not the only person who wants to install countertops in Charleston SC.
How We Install Countertops in Charleston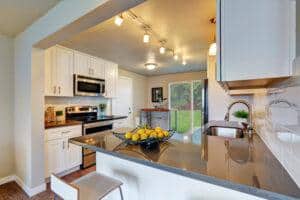 Have you never gotten countertops installed by a professional before and have no idea about it? No worries, as we at Eugene's Marble and Granite will guide you through the installation process that we offer.
Measuring the Space Carefully
Before we work on an order for the countertops, we make sure to measure the space carefully. This includes measuring the open area both vertically and horizontally, ensuring that no sides are left out. We take our expert measuring tapes along so that the client doesn't have to provide us with anything when installing countertops in Charleston SC.
Installing the Countertops
Once we complete the order of the countertops, it will be time for us to install them. We come and deliver the countertop to your doorstep and also complete the installation process. Our expert team knows exactly how to attach the countertops to the cabinets as they require a little cutting.
When we install countertops in Charleston SC, for you, you will get to create the perfect look of your kitchen. Countertops will add to the aesthetics and bring together a natural look into your space. At Eugene's Marble and Granite, we will also make sure that your countertops are fixed properly and of the same color you want.
How Do We Install Countertops?
As experts and skilled professionals with 20 years of experience, we at Eugene's Marble and Granite start by giving consultations to our clients. Then we take the measurements for the countertops and customize them according to your requirements. We also offer countertop installation, so you won't have to face any trouble we install countertops in Charleston SC.
Why Choose Our Services?
At Eugene's Marble and Granite, we keep ourselves updated with the latest technology, materials, and designs. Our mission is to provide our clients with the most satisfying customer services, so they approach us repeatedly. Known as the best people to install countertops in Charleston, SC, we will be happy to serve you. You can reach out to us at (834) 573-9351, and we will get right back to you with all the installation details for countertops.
Schedule your consultation with a professional designer, give us a call or schedule an online request. We are here to help with all your countertops needs.