Quartz vs Granite Countertops Charleston
When it comes to kitchen countertops, everyone wants their counters to be highly durable and of the best quality. Do you want to renew your countertops and need to choose between two options?
If you are having trouble deciding what you need, we can help you narrow down for Quartz vs Granite Countertops, Charleston. View some ideas online.
Quartz vs Granite Countertops
• Quartz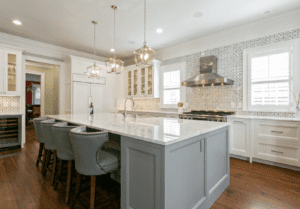 Known as a hard, crystalline mineral, Quartz is an igneous rock, and one of the most common minerals found today. It is an excellent material for countertops as it is durable with various designs and colors. Quartz also has a non-porous surface which means it doesn't require any sealing or extra attention.
• Granite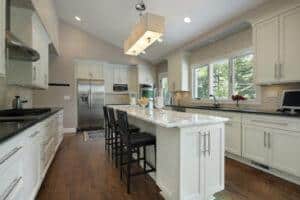 Granite is natural, a form of rock that is made from different percentages of multiple minerals and rocks. These include Quartz, potassium feldspar, mica, amphiboles, and others. According to NAHB, granite countertops are very popular as 64% of new homes include granite in their construction.
Quartz Pros
• Offers a wide variety of colors & patterns
• The finished stone gives a rich appearance
• Quartz countertops do not require maintenance
• The stone does not need to be sealed
Quartz Cons
• Less natural beauty
• It can be a little costly
Granite Pros
• It is a 100% natural stone
• Each counter is one of a kind
• Has rich and eye-catching beauty
• You have the freedom to choose colors
Granite Cons
• It requires regular sealing
• Granite is a porous material
Quartz vs Granite Countertops, Charleston
Do you want a comparison of Quartz vs Granite Countertops, Charleston, so you can select the best among them?
If you have been through the pros and cons of both materials above, you will know that each has something unique to offer. While quartz countertops have become popular over the years, they might seem costly to some people. Similarly, when it comes to granite, many people might not prefer getting a porous material as regular maintenance and sealing can be hectic.
Above all, the choice between Quartz vs Granite entirely depends upon you and your preferences. If you want a material that is easy to clean, long-lasting and requires no sealing, then quartz should be your choice. On the other hand, if your preference is a material that is 100% natural with a wide range of colors and patterns, then granite is a wise choice.
Once you go through the details, eventually, you will come to a decision.
Along with the material, be smart in picking the right professionals for countertop services.
Now that you've made a choice between Quartz vs Granite Countertops, Charleston, you will require someone to work on the installation. If you choose our services at Eugene's Marble and Granite, we assure you that we will provide top-notch services. Furthermore, with an experience in over 14,300 projects, we are dedicated to quality and long-lasting work.
Also, if you have certain preferences or want your counters in a specific way, do not hesitate to contact us. Moreover, you can call us at (843) 573-9351 for additional information and any queries you have in mind. Our hours are between 9 am to 4 pm, Mondays to Fridays.