Discovering the perfect countertops in Charleston, South Carolina, can be daunting with the diverse options available. Consequently, our comprehensive guide on selecting the ideal countertops in Charleston has got you covered. Prepare to sift through your choices effortlessly and make the best decision for your space! Add elegance to your home with our selection of stunning countertops. Read the ultimate guide to buying countertops in Charleston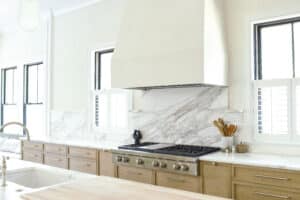 Setting Your Countertop Budget
When it comes to renovating your kitchen, countertops are often at the top of the list. But before you start dreaming of marble or granite, it's important to set a budget. Countertop prices can vary greatly depending on the material you choose, so it's always a good idea to do your research and crunch the numbers. For those living in Charleston, the average square foot cost of countertops ranges from $45 to $80. Of course, it's important to remember that additional fees such as installation, edging, and sink cut-out costs can add up quickly. By setting a budget beforehand and factoring these expenses in, you'll be well on your way to creating the kitchen of your dreams.
Researching Your Countertop Options
When it comes to choosing the right countertop, it can be tough to navigate through all the different options available. That's why it's important to do your research before making any final decisions. Lucky for you, Charleston offers a variety of high-quality countertop materials to choose from. For a stunning and durable option, consider granite. Its natural beauty will elevate any kitchen or bathroom. On the other hand, if you're looking for something low-maintenance, quartz is a great choice. Marble is another classic option that exudes elegance and sophistication. And if you're after something truly unique, quartzite offers an exotic and eye-catching look. No matter which material you choose, Eugene's Marble & Granite provides the best countertops in Charleston.

Consider Countertops needs
When it comes to finding the perfect countertop material, the decision ultimately relies on your unique needs, lifestyle, and budget. For families with rambunctious children, durability is key. Quartz and granite are top contenders that can easily withstand spills, scratches, and heat. Love to cook? A simple-to-clean surface that won't dull your knives is a must-have. Fortunately, both granite and quartz fit the bill. Additionally, your chosen material should complement your home's design aesthetic. A luxurious kitchen may benefit from the opulence of marble, while a country-style kitchen may prefer the charm of ceramic tiles. With so many options available, the sky's the limit when it comes to selecting the perfect countertop for you.
Finding a Reputable Countertop Provider
Looking for a trustworthy countertop provider can feel like an overwhelming task, but it doesn't have to be. You deserve a company that provides not only high-quality countertops but also stellar customer service. Consider taking a peek at online reviews from sites like Yelp to gauge the opinions of previous customers. Alternatively, asking family and friends for recommendations can be a great way to get started in your search. If you're in Charleston, you're in luck. Eugene's Marble & Granite is the top countertop provider in the area, offering an impressive selection of unique and stylish options. Trust them to transform your space with their expert craftsmanship and unparalleled attention to detail.
 Ask Questions
Discover the perfect countertop for your home without the stress. The key? Ask the experts! Before sealing the deal, be sure to get answers to any lingering questions about the specialists' qualifications, warranty, and maintenance of the material to ensure a fit that's both functional and gorgeous. Speak up with confidence and enjoy your flawless new countertop. Need help to choose the perfect countertop for your home? Don't worry; our experts are here to guide you in making an informed decision. Plus, if you have concerns about installation costs, just ask us. We believe that knowledge is power, and the more you know, the better equipped you'll be to find your ideal countertop.
Choosing the Right Style
As you approach the final stages of choosing your countertops, it's important to consider the stylistic aspects that will make them truly yours. The material, budget, and provider are critical factors, but now it's time to let your true colors shine. Are you interested in a minimalist appearance, something sleek and modern? Or do you want a look that screams elegance, with ornate designs and details that harvest a feeling of sophistication? It's important to take into account the overall style of your home, especially your kitchen or bathroom, to ensure it all comes together. What's more, selecting the perfect finish can elevate the appearance even further. From matte to glossy, each finish presents its own unique vibe, so contemplate how you'll be using your countertops to ensure the selection you make is perfect for you.
Making Your Countertop Purchase
As you make your final purchase decision, it's essential to take a step back and review all the details. From material to finishes, triple-checking your purchase can ensure you get exactly what you're looking for. If you're partnering with a countertop provider, read over the contract to catch any minute details before signing off. Before installation day, take the time to clear out any items and prepare the area for the new countertops. Remember, the installation process can vary by project, so set aside ample time to complete your project. With careful consideration and a bit of foresight, your new countertops will be a stunning update to your home space.
FAQs about  Buying Countertops
Q: What should I do to prepare for countertop installation?

A: Before the day of installation, take the time to clear out any items from the area and make sure it is prepared for your new countertops. Additionally, read over the contract carefully with your supplier and ensure that you understand the process. This will help to ensure a smooth and successful installation.

Q: How long does it take to install new countertops?

A: The installation time can vary depending on the size of your project. Typically, it will take 1-2 days to fabricate and install the countertops.

Q: What type of maintenance is required for my new countertops?

A: To keep your countertops looking their best, it's important to clean up spills immediately and use a cutting board when preparing food. Additionally, you should wipe down the countertop with a soft cloth and mild soap and water regularly.
Schedule Installation
Is it time to revamp your kitchen? Take the next step with peace of mind by partnering with a trustworthy supplier. After researching for a reputable supplier who offers exceptional products at a reasonable rate, schedule an installation appointment. Our professionals will go to your house and skillfully measure the space, ensuring a perfect fit. Then, they will intricately craft and install your countertops for an elevated look. Join us in taking your culinary dreams to the next level. Transform Your Kitchen in Just 1-2 Days! Our skilled professionals can give you a flawless countertop installation. Experience the perfect blend of elegance and practicality that will make your kitchen look astonishing for years.
Maintain Your Countertop
Congratulations, you now have beautiful new countertops in your kitchen or bathroom! To keep them looking their best, it's important to maintain them properly. Here are a few tips:
Clean up spills immediately to prevent stains.

Use a cutting board to prevent scratches.

Use a trivet or hot pad to protect your countertop from heat damage.

Wipe down your countertop with a soft cloth and mild soap and water.
Where to buy Countertops in Charleston?
Our experts at Eugene's Marble & Granite offer a wide range of materials, including luxurious granite and trendy quartz, to match any type of décor. With our personalized design services, you can rest assured that you'll find the perfect fit for your home. Upgrade your living space and create a functional centerpiece today. Choose Eugene's Marble & Granite for Charleston's best selection of high-quality countertops.
Conclusion
Investing in new countertops for your home is a big step that involves time and dedication, but the result is worth the effort. Whether you're looking for elegance or durability, finding the perfect fit for your kitchen or bathroom can be a game-changer – and that's where Eugene's Marble and Granite comes in. They are the experts in Charleston when it comes to top-quality countertops that will last for years to come. By working with Eugene's, you'll gain access to the finest materials, the latest designs, and a team of professionals who will guide you through the process. Don't settle for less than you deserve – choose Eugene's Marble and Granite and transform your home today!