How to Choose Countertops in Charleston?
Are you looking for countertops Charleston offers? Learn important features to consider before making the final decision.
1. Pick out 2 complementing primary colors
Working with 2 colors will give you more opportunities if you choose to update your kitchen as styles change over time.
This will bring the whole space together and add some character. Your color choice will depend on what style or feel you are going for.
For example, if you are wanting a relaxed, beachy feel, most people choose the colors white, blue, and beige/brown. A beautiful quartzite or marble with hints of blue will work well for this coastal kitchen look! Try blue cabinets to boost this look.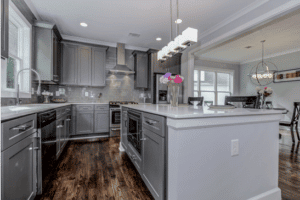 Or, instead of blue cabinets, you can choose to do sparkling blue tile.
For an ultra-modern look, people may choose all white cabinets, white quartz with mild grey veining, and stainless steel appliances. The goal is to achieve a bright, light-looking space.
To make things look more edgy and sleek, add black bar stool chairs.
Want to spice up your kitchen? Add some contrast and style by mixing and matching material along your kitchen perimeter and kitchen island or mixing and matching themes—all in one kitchen! Here are some guidelines, ideas, and inspiration.
Your flooring should already be a natural contrast. Think about what colors you could add for your stone countertops that already match your cabinetry and flooring. You should be able to name several!
For example, dark brown hardwood flooring, white cabinets, white and grey veined stone for the kitchen perimeter, and a beautiful, colorful blue stone for the kitchen island. What a way to bring life and boldness to your kitchen!
Wooden cabinets
To add some warmth and an earthy, beachy feel to your kitchen, consider using wooden cabinetry along with marble countertops to bring both an element of sophistication and relaxation!
Dark & Bright
If you love both the boldness of dark stone and the lightness and brightness of white stone-combine them both! EMG suggests using dark granite or quartz for your kitchen perimeter and a beautiful, bright white marble or quartz with grey veining for your island. How fun!
By mixing and matching your material, you are sure to make a fun-looking kitchen you love being in! Plus, if you can't decide on the material, you can have the best of both worlds! Happy cooking!
For a more traditional feel, one may opt for brown wooden cabinets and medium-toned granite. Stick to warm tones and softer contrasts. However, for a more modern traditional feel, go with white cabinets and dark granite.
You can't go wrong with any of these looks — it all depends on your preference. Happy choosing!
Contact our professional customer service representative. We will be happy to help you to find the best countertop for your style.